Level 1
A Level 1 charger represents the slowest type of charger but perhaps the most convenient for individuals because it can operate using a standard residential outlet of 120 volts. This would be an AC charger an EV owner can plug into a standard outlet.
Charging time: A Level 1 charger can fully charge an empty battery in 50-60 hours.
Level 2
Level 2 chargers also are AC-powered. Assorted styles of level two chargers are designed to handle either residential 240-volt outlets or commercial outlets of 208 volts. A Level 2 charger is smaller than a Level 3 DC fast charger and less expensive for the initial capital outlay due to the need for fewer components.
Charging time: A Level 2 charger can fully charge an empty EV battery in four to ten hours.
Level 3 – DC fast chargers
Level 3 chargers are DC chargers, which, unlike AC-based Level 1 and 2 chargers, output DC current to the vehicle. Rapid chargers will have kilowatt (kW) capabilities of 50 kW and up. The higher the kW capability, the faster it will charge. These are much faster than any AC-type charger, as it converts AC to DC within the charger and bypasses an EV's onboard AC to DC converter, charging the battery directly.
Charging time: Depending on the type of Level 3 fast charger, an empty battery can be fully charged anywhere from 15 minutes to less than an hour.
An L1 charger will most likely come with the vehicle and can plug into any standard socket. L2 chargers need a plug similar to a household dryer and require an electrician to install. L3 chargers are an entirely different level of installation complexity because of their high-power requirements. You'll need a licensed electrician to confirm your existing grid is up to the task. Then the work of trenching, laying cable, and connecting to the grid begins. Some engineering firms specialize in L3 EV charger installations, and a quick web search will find them for your area.
Charges will depend on your location, available electricity and more. We can tell you that the installation for an L3 can run into tens of thousands of dollars. However, if you're a business owner and plan to charge for L3 charger access, the profitability of an L3 might be the better installation choice. An L2 again depends on the variables listed above, but with the right location and nearby set-up, it could be less than $1000.
Here is a good resource for industry averages, but keep in mind that your installation could be very different.
You can buy an L2 for a few hundred dollars or pay tens of thousands for an L3 DC fast charger. It comes down to the intended use for your EV charger. Will it be used at an office building for employees to park and use all day? Or to increase foot traffic with constant turnover? Basically, is the charger a nice perk or a profit center?
As a stand-alone product in a parking lot with low traffic? Probably not. As an attraction to your retail location or as an advertising feature? Definitely!
A DC fast charger is not a charger that an EV owner will have installed at his or her home. It's a specialized installation and provides a charge in as little as 15 minutes. EV owners know this and will seek out DC fast chargers at fueling stations, retail locations and hotels. And as we move to higher and higher EV adoption, this is a growing audience. Learn more about DC fast chargers for retail and convenience stores here.
Making money on an EV charger is like making money on any type of infrastructure investment. You have to determine your costs (installation, electricity) vs. how much revenue you can bring in. While you can charge for EV charging, the main draw for retail locations is additional foot traffic. Think of it this way – your fueling station is on one corner, but your competitor is on the other corner with an EV charger. Which station is going to get more EV traffic? Keep in mind that EV ownership is increasing approximately 20% per year, so you will need to install one to keep your current level or grow your business.
Another revenue stream can be ads on the EV charger video screen, just like you've probably seen at fueling stations. Or another business or organization can sponsor the charger.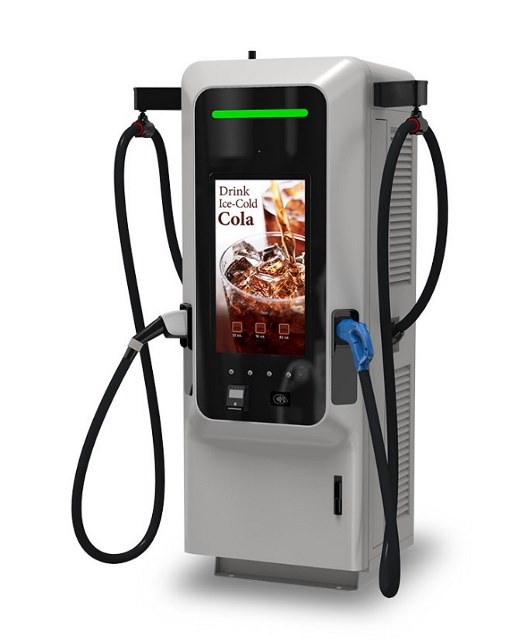 If you are operating your EV charger as a profit center, there are a few different ways to charge for charging:
By time spent. Charging fees are based on the time spent at a charger, such as in 15-minute increments. This also helps to prevent drivers from remaining in a space after they are done charging.
By power used. You can charge by the amount of kW used.
Per use. A flat fee is either charged for every charging session or through a membership.
Time of day. There are two reasons you may want to consider this – electricity has different prices that depend on the time of the day, or to extend the amount of use-time by encouraging charging at non-peak times.
The number of different memberships and billing software options are endless and can help determine the best billing method for your EV charging location.
EV charging is still a developing technology. which means the lifespan is a little tricky to determine because chargers are developing so fast. There simply hasn't been a very long history to get an accurate answer.
Many companies in the industry quote that the lifespan of an EV charging station is approximately 10 years. However, as more robust chargers are being developed and with the proper maintenance and service plan, you can expect your charger to last longer.
Good question! EV chargers are made to last a long time, so they shouldn't have any real issues. However, like all equipment with moving parts, there is the possibility of issues due to wear and tear. For L1 and L2 chargers, you'll want to inspect the cables and plugs occasionally. The maintenance requirements for L3 chargers are a little higher because of all the different features and the amount of use they get. For L3 chargers, look into a service plan that includes preventative maintenance and quick repairs. Also, remote monitoring makes service even easier.
Commercial EV charging stations are considered public charging stations used for commercial purposes, either as a profit center collecting some type of fee or as an incentive to attract business. Some municipalities may choose to place EV charging stations as a service to their city. Commercial EV chargers are more "robust" than their household counterparts because they are designed for heavy use and may also have features such as payment functions. L1 EV chargers are slowly being phased out as commercial EV chargers because of their lack of speed, and the accessibility EV owners already have to L1 charging at their residences. L2 EV chargers may be used as commercial EV chargers at places where EV drivers are expected to park for longer times, such as a hotel, place of employment or multi-family housing. Chances are these chargers would be used for at least 8-10 hours a day, so they would need to be more robust than residential chargers. They would also need some sort of payment or fee communication.
Some municipalities and fleet operators may use DC fast chargers at their locations because of the high use, fast charging speed or tracking ability.
Chances are – yes. Many federal, state, local and NGO funding and grants are available. Since they differ from location to location, you'll need to search for your location. A great place to start is the web page for your state's department of transportation, department of energy or a general web search.
One great program is the NEVI program, which will provide 80% of costs for planning, installing, purchasing and maintaining an EV fast charger. Specific requirements exist, but this is a great opportunity if your location qualifies.