Learn about NEVI government funding
Ready to learn more about NEVI program funding? See our infographic with the basic information and what costs NEVI covers.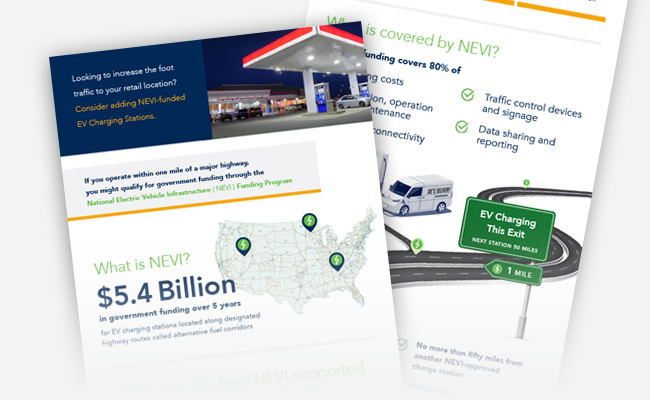 Contact a NEVI Specialist
Frequently Asked Questions
What is the NEVI plan?
NEVI (National Electric Vehicle Infrastructure) program is a federally funded program allocating $5.4 billion to building EV charger infrastructure across the country. The funds will be allocated at the state level.
Who can receive NEVI funds?
Most states are allocating NEVI funds through an RFP process.
Are there requirements to receive NEVI funds?
Yes. Most of the requirements for NEVI funding include location and the type of EV charger that can be installed. Installations must be located within one mile of designated corridors called Alternative Fuel Corridors, typically along main highways. Approved installations cannot be more than 50 miles away from each other.
Charging stations must be capable of charging four vehicles at 150kW simultaneously. The BTC GEN4 180 kW and the Split System offers NEVI compliant configurations.
Any organization interested in using NEVI funds must match 20%. Some states do have alternative funding and grant opportunities available to help with additional costs.
How can I get started on the NEVI program?
A great place to start is your state's website. In the map above are links to the NEVI pages for each state. Information can include the status of your state's planning, the corridors, videos, presentations and how to get more information.
Why should I participate in the NEVI program?
NEVI is a great opportunity to receive funding for a program that could also increase foot traffic to your business. EV drivers will seek out and visit fast-charging stations giving your organization the ability to attract prospective customers. This is a limited-time opportunity for one location at a time, so take advantage of NEVI funding in your local area.
States are looking to participate in NEVI to meet EV promises and increase tourism.
What do NEVI funds cover?
NEVI funding covers eligible costs such as planning, acquisition, installation, and operation of the charging unit.
How do I get started with NEVI?
The first step is to go to your state's website and check the status of your state's program. You'll also want to check that you are located along one of the Alternative Fuel Corridors. If your state is not yet accepting RFP, you can start planning by learning about NEVI-approved chargers and the power requirements for installing a charger at your proposed location. You can read more about NEVI here.