GEN4 180 kW All-in-One (AiO)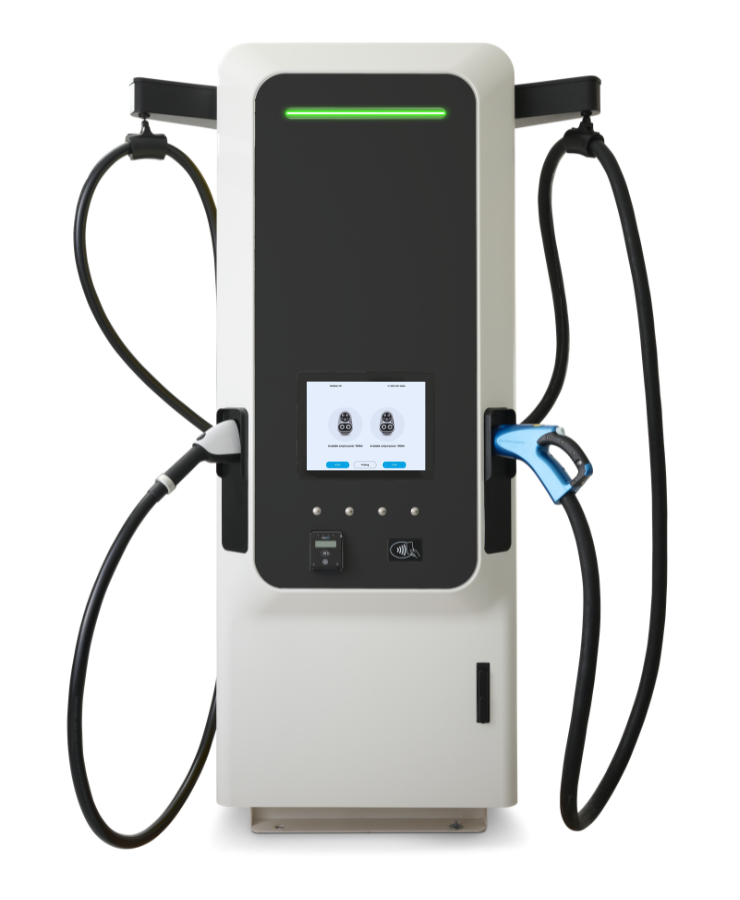 GEN4 180 kW All-in-One (AiO)
Introducing the Gen4 All-in-One (AiO) 180 kW DC Fast Charger—the smarter alternative for EV charging innovation. Fully equipped with all the latest features, this charger delivers a great user experience by combining speed, convenience, flexibility and reliability with a low total cost of ownership.
Features
CCS-1 and CHAdeMO Connector Options
Simultaneous Charging
Liquid Cooled Cables for 500A Continuous Charging
15"or 32" Optional Touchscreen
Credit Card and RFID Payment Options
Modular System for Future Upgrades
Integrated Cord Retraction
Compact Design
Buy America/ NEVI Compliant Configurations Available
Applications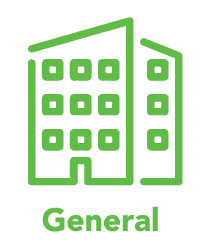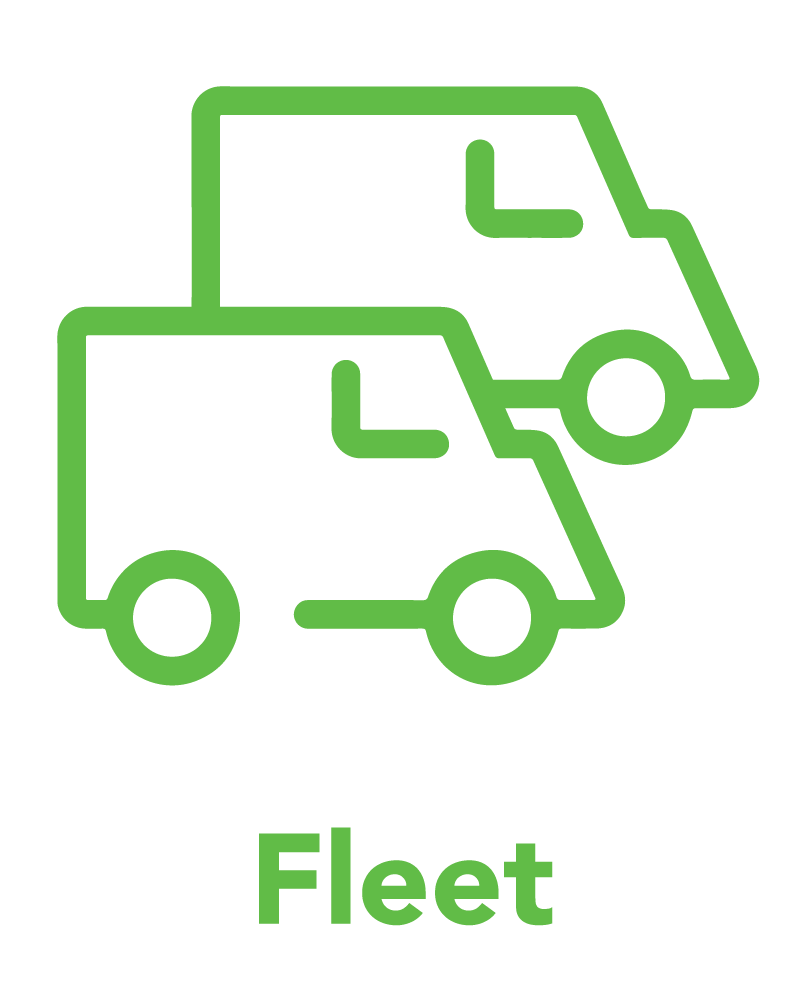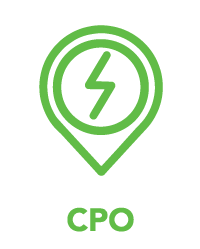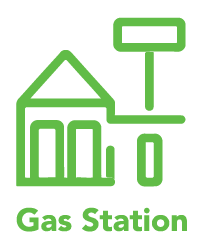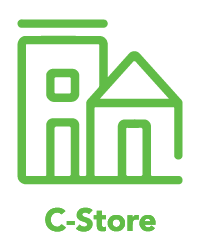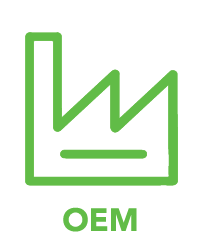 GEN4 180kW All-in-One DC Fast Charger
Learn about the smart alternative for fast EV charging with 80% EV battery charge in as little as 10 to 15 minutes.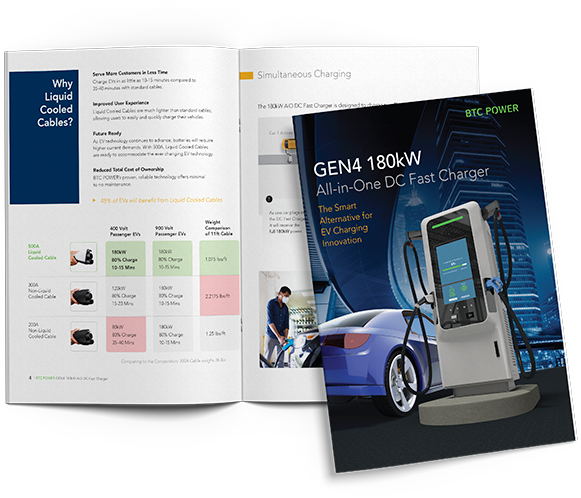 The DC fast EV charger designed for the future
Not only is the Gen4 AiO charger equipped with current technology, but it is also ready for the future. The 500A liquid-cooled cables can accommodate upcoming advancements in EV technology, ensuring compatibility and optimal performance for years to come.
The Gen4 AiO charger is built using a flexible modular system, allowing operators to scale the system down or make future upgrades. Owner/operators can start with a smaller configuration and expand gradually as demand increases, aligning your infrastructure investment with the growth of EV adoption. This scalability and adaptability make the Gen4 AiO 180 kW charger a cost-effective solution that evolves with your needs and allows adaptation as EV charging capacity grows.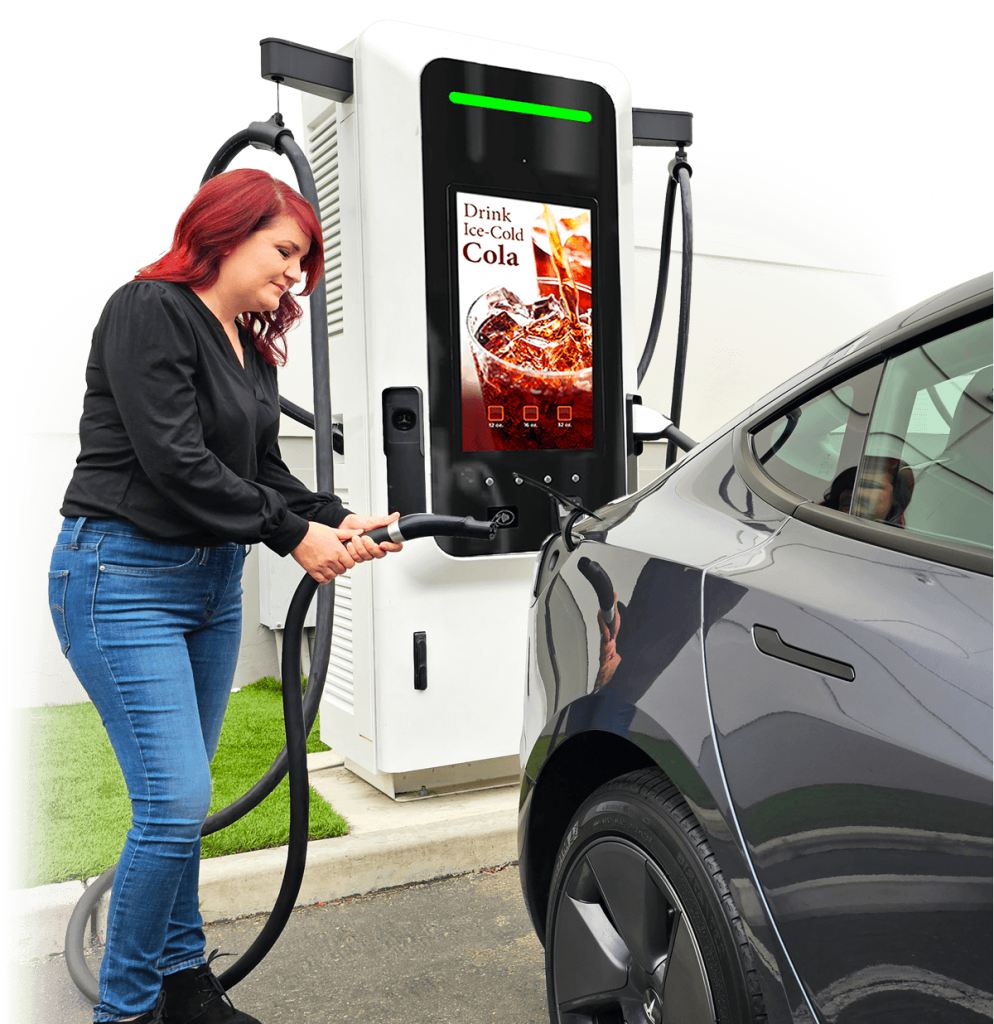 DC fast chargers – the ultimate customer experience
A standout feature of the Gen4 AiO charger is its liquid-cooled cables, enabling you to serve more customers in less time. With the ability to charge an EV in as little as 10-15 minutes, the Gen4 offers exceptional charging speeds, enhancing customer satisfaction.
The Gen4 AiO charger leverages distributive power allocation to charge two EVs simultaneously at rapid speeds. With the ability to deliver the full 180 kW of power to a single car or distribute it evenly between two cars at 90kW, you can efficiently serve multiple customers, reducing waiting times and maximizing customer turnover.
Different connector options make the charger compatible with most EVs on the road today, ensuring you can cater to a wide range of customers and vehicles. Our sales engineers can help in determining the right connector for your application.
Weighing in lighter than traditional cables, the ergonomic design consideration eases use for customers, further increasing their satisfaction with the charging station. The standard cable is 18 feet in length. An optional 25-foot cable is available to serve larger vehicles, such as fleet operations and charging class 8 trucks.
Commercial EV chargers designed for the retail use
Installation is a snap, complete with graphic illustrations to guide step-by-step instructions. Everything required for proper installation within the charger is clearly labeled to eliminate confusion and help ease the process.
The large touchscreen serves as a focal point for customers while charging to showcase targeted advertisements, promotions, or personalized recommendations that encourage in-store shopping. Increase the likelihood of impulse purchases, encourage sales of items with high-profit margins, or advertise specials and customer loyalty programs. This is a focal point for retail locations looking to increase foot traffic.