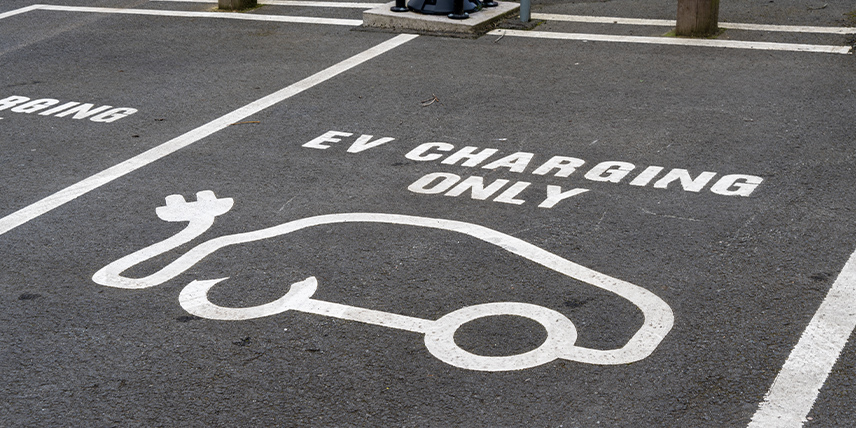 The transition from combustion engine vehicles to electric vehicles (EVs), along with changing regulations, provides commercial enterprises, government agencies, medical facilities, and more with a unique opportunity to lead the charge toward sustainable transportation.
As organizations strive to reduce carbon emissions, enhance employee benefits, and provide cutting-edge meet changing regulations, installing Level 2 (L2) commercial EV chargers offers a compelling solution. By embracing this technology, businesses and institutions can foster a greener future while meeting the EV charging capacity required for vehicles in their fleets, employee vehicles, and long-term visitors. L2 chargers are more commonly installed in commercial entities with specific usage patterns or operational requirements. Several types of commercial enterprises could benefit from L2 fleet chargers or charging ports. However, certain factors help influence this decision.
The L2 EV charger – perfect for extended rest
An L2 charger can typically bring an average EV up to 150 miles of range within four to five hours of charging, with exact times varying depending on the vehicle's battery charging capabilities. Commercial facilities considering installing charging stations must first answer this question: How long is a vehicle left in the parking lot? This is also known as the "dwell time."
Facilities frequented or used for storing vehicles with an extended dwell time of several hours are prime candidates for L2 charging station installations. Overnight or all-day parking? Even better.
If you are looking for a fast, 20-minute charge, you'll need to look at a different solution. Instead, you'd be looking for a DC fast charger. But if you know you have an extended dwell time and are looking for an affordable option, then the L2 charger is the choice for you.
What is a "commercial" L2 charger?
While you can put an L2 charger in your home, an L2 for commercial purposes will have different requirements.
Plug options. You only need one type of plug for one car in the garage. But, when you start to service many types of makes and models, you'll need to look for universal plug options such as the CCS, CHAdeMO or NACS plug options. The L2 charger uses the J1772 plug, which fits a CCS plug and commonly has adapters for the CHAdeMO and NACS plug options that often come with the vehicle.
Payment options. Chances are a homeowner won't be charging their family members for EV charging. But if you're offering your EV charging station to the public, you'll probably want options such as an RFID or credit card reader that can also read QR codes or apps.

Pricing options. Let's say you're a retail business that knows local EV owners will find you on an app. Here are two challenges a commercial L2 charger could solve with pre-programmed pricing solutions.

EVs sit at chargers after charging is complete, and now you're losing out on another EV using the available charger. This is a great opportunity for a commercial L2 charger to help with a pricing system that works by time or sends a message when charging is complete.

EV owners only come by during certain parts of the day. Pricing by time of day or multi-tiered energy pricing is the solution. Higher pricing at peak times, followed by lower pricing at off times, could extend the hours your EV charger is visited.

Robust manufacturing. L2 commercial EV charging station manufacturers know the chargers will be going through multiple charging cycles and perhaps used 20-24 hours a day. This is why ruggedized and public-use features have been built into commercial L2 chargers, such as retractable cables, more robust construction, and NEMA enclosure ratings.
Regulation requirements. Does your charger require ISO certification? Buy America compliancy? Meet state, local, or funding regulations? Be sure to find an EV charger manufacturer that can meet any regulations and requirements you have.
Dual ports. Not only can a dual port accommodate changing two vehicles in a fleet, but businesses can also maximize charging revenue by having dual ports available within one dispenser.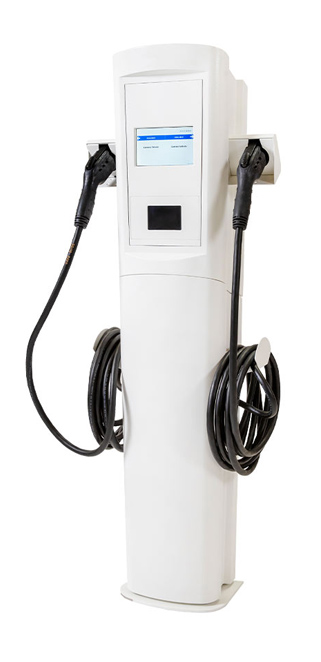 Best entities for L2 commercial chargers
All types of businesses and organizations use commercial L2 EV chargers. Local non-profits set them up to encourage EV adoption. Municipalities may offer them as a local resident perk. Fleets may use them due to overnight parking and long dwell times. Other locations use them as profit centers, such as shopping malls or hotels.
Some examples of commercial entities where L2 charging stations fit the traffic patterns, dwell times, and usage situations could include:
Workplace parking: Employers providing charging options for employees' electric vehicles often opt for L2 chargers. These facilitate the longer charging sessions that can be completed during working hours and accommodate multiple vehicles during the course of a single day. Workplaces can include office complexes, manufacturing facilities, or distribution warehouses where staff members clock in for predictable shifts.

Tip: Give employees a keycard for charging and program the EV charger to collect charging fees for anyone who uses the chargers at "off" times. Many times, local EV owners will seek a night-time charger location.

Hospitality sector: This sector could include hotels and motels, conference centers, resorts, and even vacation rental properties advertised on platforms such as VRBO or Airbnb. Many rental properties, whether individual homes, apartments, condos, or extended stay suites often have designated parking spaces for guest vehicles. In such cases, L2 chargers supply a valuable amenity to attract guests with electric vehicles, providing them with a convenient charging option during their stays.

Tip: Putting your location on apps for travelers to find L2 chargers can not only increase your bookings but could also bring in daytime users of EV owners looking for charging stations. Read more tips in our blog on hotel EV charging stations.

Medical facilities: L2 chargers can serve multiple purposes on medical facility grounds. First, many hospitals maintain small fleets for patient transport, medical equipment delivery, or staff transportation. Switching to EVs for these typically mid-sized vehicles requires the infrastructure to charge them. And these vehicles can charge in a dedicated lot, with fully charged vehicles swapped out as the need arises.

A second purpose for L2 charging stations at a hospital or medical facility is to serve the charging needs of employees and patients or their families. Even day surgeries require a few hours of dwell time, supplying ample opportunities for employees and visitors alike to utilize an L2 charging station to power up a vehicle.

Tip: Get started on installing EV charging stations now! Many locations are phasing out internal combustion vehicles intending to go completely electric. This includes delivery vehicles and medical transport such as ambulances. Ensure your location has the charging station infrastructure.

Government offices and municipal facilities: A recent executive order calls for most federal vehicle purchases and leasing agreements to transition to zero-emission (electric or hybrid) by 2035. The federal government will need charging ports to match the fleet requirements.

A study conducted by the US Government Accountability Office (GAO) found that the vast majority of vehicles, about 69%, owned and leased by federal agencies are classified as "light-duty or sport utility vehicles, pick-up trucks, and sedans." Whether parked in a government lot overnight or at a government office, this type of vehicle and the usual dwell time poses the perfect circumstance for L2 infrastructure installation.

Tip: Just like the hospitality center, you'll want to get started on this soon. If you have vehicles that run 24 hours a day, such as law enforcement or maintenance, talk to your EV charger manufacturer, which can recommend the right combination of charger types to accommodate your fleet.

Fleet Operations: Companies or organizations with any size fleet, whether small, medium, or large, often opt for L2 chargers. A fleet can be owned by delivery services, contractors, corporations, or rental agencies. The installation of L2 EV chargers can accommodate the needs of multiple fleet vehicles parked during scheduled downtime or transition periods, ensuring the fleet's readiness for operation.

Tip: Certain software and chargers can track each vehicle's charging usage and send signals of potential issues before they happen. Read more in our blog about Commercial EV charging stations for fleet owners.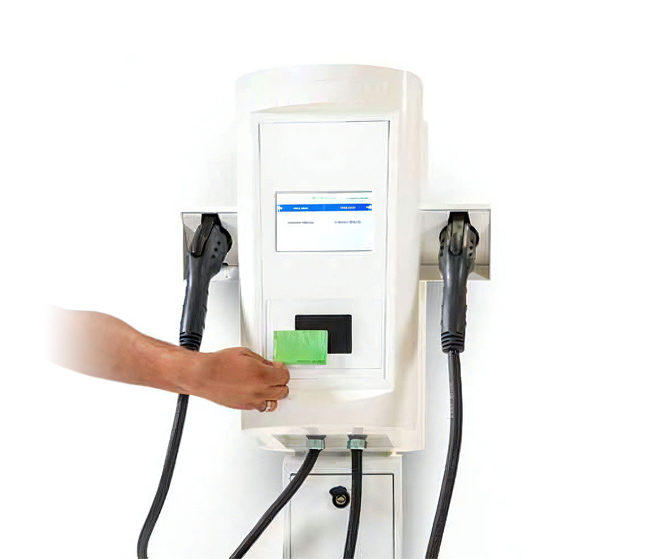 Benefits of L2 charging stations for commercial entities
Level 2 chargers offer multiple advantages for commercial entities looking to install one or more charging stations. Whether you're looking for the right EV charger for your location or just starting your search in EV station installation, here are the benefits of commercial L2 EV chargers.
Capital costs: L2 chargers offer a flexible, affordable option when multiple charging stations could best accommodate vehicles with a longer dwell time. Commercial enterprises can reduce upfront costs without compromising on charging capabilities. This helps businesses with budget restrictions or those seeking to scale up their charging operations rapidly.
Increasing foot traffic: Facilities or businesses that have customers with longer dwell times, such as medical facilities, hotels, or even entertainment venues, can offer customers, guests, or patients the convenience of charging their EVs while engaging in their activities.
Meeting sustainability pledges: Installation of EV chargers positions the facility or business as forward-thinking, environmentally conscious, and up-to-date to attract and retain business. As many companies create web pages describing their sustainability efforts or carbon offsets, EV chargers will be one way to add to overall efforts.
Load Management and Grid Optimization: One of the significant advantages of incorporating L2 chargers is to manage electricity load and optimize grid usage. L2 chargers can reduce the risk of overloading the electrical infrastructure and effectively manage the electricity demand. Charging vehicles overnight, for example, avoids peak load times and potential disruption. The load management strategy of L2 chargers enables a smooth charging experience while minimizing strain on the grid.
Ease of Installation: There are multiple methods of installing L2 chargers. Depending on the facility or parking area designated for this style charger, both wall-mounted, and pedestal options exist, which occupy a minimal footprint. Installation for an L2 charger can be lower than other chargers and even has lower cost and need for maintenance.
Attract employees: There's no doubt that there is a drastic increase in the number of drivers switching to EVs. Make your organization more attractive while offering a minimal cost benefit to current employees.
Available options for commercial L2 chargers
L2 chargers are available from BTC Power, the leading EV charging station manufacturer, as either a single or 30-40 Dual Port option or a 30-70 Amp Single Port style. The L2 chargers from BTC Power are fully calibrated, tested and sealed, and ready for installation for commercial purposes.
For commercial enterprises considering EV charging infrastructure additions, integrating L2 chargers presents a compelling solution. Under the appropriate circumstances, the L2 model helps balance charging times with flexibility, reduces costs, enhances the user experience, and optimizes grid usage.
Each business should evaluate its unique needs and charging patterns to determine the most suitable charging port to service its fleet, employees, guests, or visitors. Call BTC Power today to ask about commercial pricing for L2 charging stations.