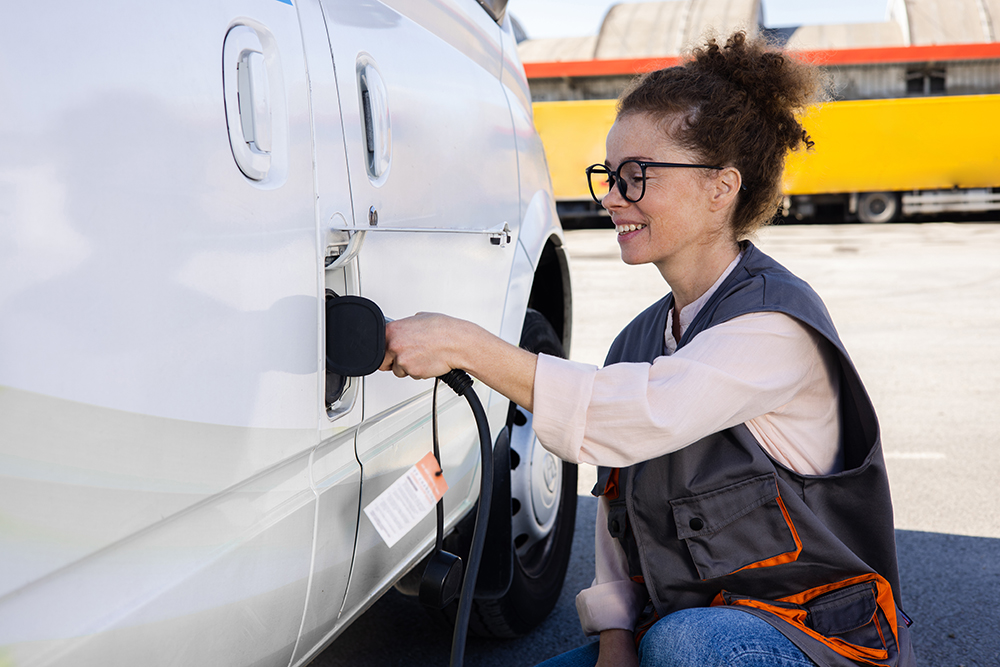 Fleet operations management plays a crucial role in the transportation industry. Decisions directly impact a business's efficiency, whether incorporating new logistical models for route planning or when selecting the fleet vehicles. Fleet owners, large and small, are switching from vehicles with combustion engines that rely on fossil fuels to electric vehicles (EVs) of all types and sizes. This shift to fleets charged with renewable energy poses fleet owners with a significant decision involving charging stations and setups.
Which type will best serve the fleet owner and operator? Which works within an already tight budget? Which works with the business's schedule? Let us look at the options and important factors when considering what type of commercial EV charging station infrastructure to install for your fleet charging session.
What is the definition of a fleet?
While everyone is familiar with national trucking fleets, it is important to remember that fleet charging considerations affect companies of all sizes. According to the Federal Motor Carrier Safety Administration, small businesses with one to six trucks accounted for 91 percent of all fleets in 2019.
Fleets also encompass many types of vehicles. These can include larger trucks from Class 2B to 8, while fleets can also consist of vans, buses, passenger vehicles, limousines, or pickups.
The types of businesses comprising small fleets with an assortment of vehicles can include delivery services, landscaping companies, HVAC, plumbing services, pest control and exterminators, coffee roasters, contractors, or catering services. Dedicated charging stations make a lot of sense for fleet vehicles parked overnight or operated during scheduled shifts.
This does not apply to corporate fleets alone. According to the Bureau of Transportation Statistics, businesses account for the vast majority of US Automobile and Truck Fleet usage. Still, the next largest category for fleet management is government bodies or agencies, followed by utilities, police, taxis, etc.
Fleet operators know their vehicles' habits and schedules, especially regarding routes and storage. This known up and downtime makes EVs optimal choices for fleet vehicles.
For example, an Amazon distribution facility utilizes mid-mile vehicles that travel approximately 150 miles between different distribution centers on dedicated routes. At these centers, when vehicles are not in use or are parked overnight, this scheduled downtime can help fleet owners select the appropriate charger to purchase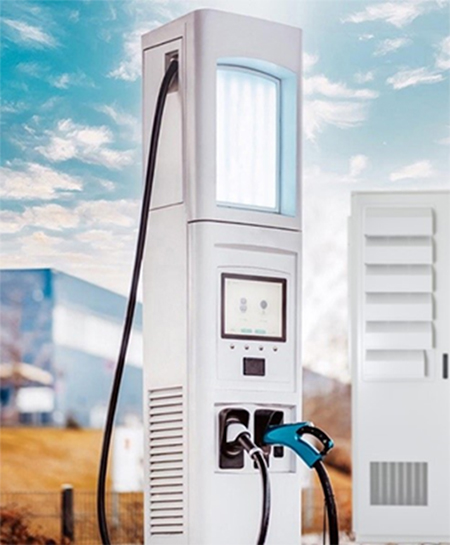 Leveraging the fleet hub and duty cycles for fleet EV charging times
Most fleet vehicles have a duty cycle that encompasses a range of 15 to 20 miles to distribute goods or service customers. This ranges from large fleets such as Cisco for food deliveries or Amazon and UPS delivery trucks to local plumbers or contractors. Matching the charger to the fleet or vehicle class is one of the primary and first considerations.
Size and battery capacity do vary. For example, the battery pack of a smaller vehicle may be 50-100 kWh, while that of a class six truck may be 300-400 kWh. However, what most fleets have in common, large or small, is that the vehicles are parked overnight. This known parked time supplies ample charging time, with charger selection optimized to match the vehicle's battery capacity.
The battery size and the length of time the vehicle needs for a charge makes a difference in charger selection. For example, a DC fast charger can handle the capacity demanded by a larger vehicle. These larger vehicles will need faster chargers to charge in the same timeframe as smaller vehicles.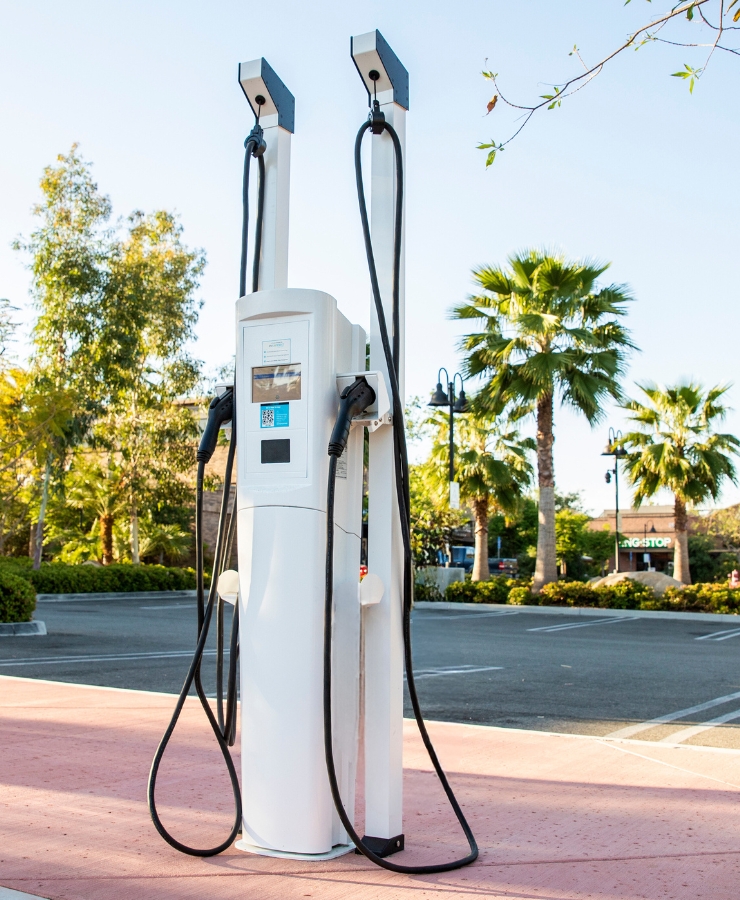 A trickle, a stream, or a firehose
There are three types of EV chargers: Level 1, Level 2, and Level 3.
Level 1 chargers use a standard 120-volt household outlet and can charge an EV in 8 to 12 hours.
Level 2 AC charging stations rely on 240-volts outlets and can charge an EV in 4 to 6 hours.
Level 3, also called EV fast charging stations, use a high-voltage direct current (DC) connection and can charge a vehicle in 30 minutes to an hour.
A Level 1 charger, or 120-volt charger (up to 1.2 kW) is common to residential dwellings but is the slowest option. For larger vehicles, the charge time can pose a challenge. One recent automotive reviewer evaluating the Ford F-150 Lightning called the 3 miles per hour charging capacity of the 120-volt outlet a "trickle" entering the battery. Depending on the type of vehicle that requires a charge, small fleet owners should consider moving up to Level 2 or Level 3.
A Level 2 charger is used for faster charging or larger vehicles. It can typically offer 7-20kWs. The same article cited above stated a 240-volt outlet could add approximately 14 miles per hour to charge a Ford F-150. Here is where a Level 2 charger shines as an excellent charger for a fleet – easy to install, affordable to obtain, and fantastic when you know the set downtime of a vehicle. Smaller fleet owners with fleets with a single shift and extended dwell time can comfortably use Level 2 chargers to replenish the vehicles' charge.
The Level 3 or DC fast chargers rated 50-400kW can charge those same vehicles in about an hour. You will pay for this convenience, but it might be worth it depending on your fleet's driving habits and usage. If you have vehicles that run multiple shifts or extremely long distances, the Level 3 might be the EV fast charger you need.
Generally, the recommendation is that as the fleet grows, the number of chargers grows alongside it. For every ten Level 2 charging ports or stations, the fleet owner should consider also installing a Level 3 DC charger for EV. The DC fast charger can act as universal chargers for any vehicle and offers quick charging when schedule disruptions might delay a vehicle's return to the fleet hub. For example, the vehicle might need service, have a blown tire, or has been delayed for some other reason along its scheduled route. A DC fast charger can ensure the entire fleet is charged and ready for service when the next shift begins.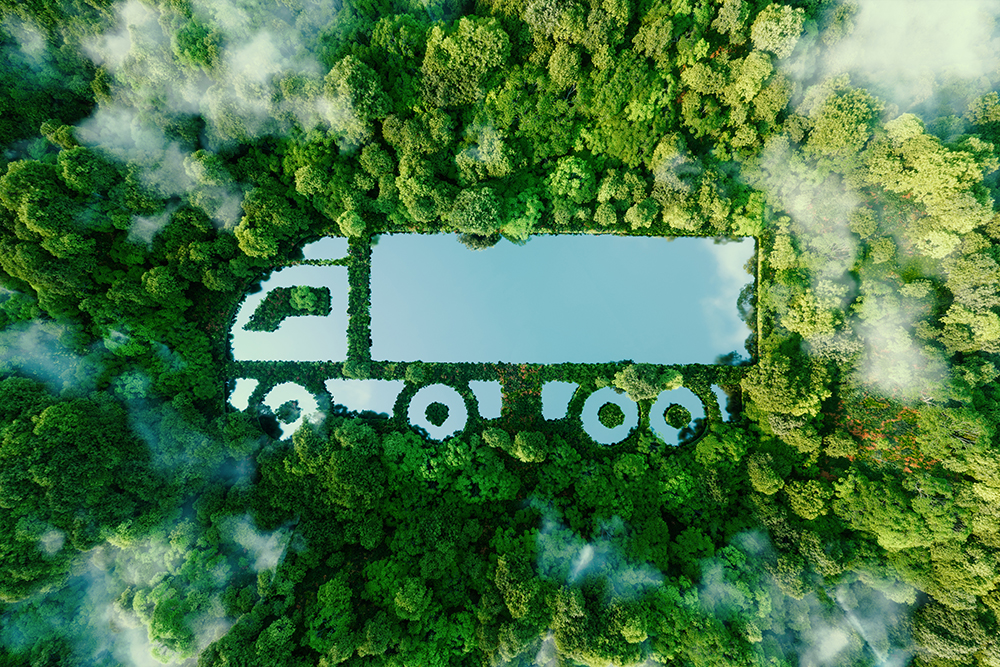 Reasons to switch fleet vehicles to EVs
Lower total cost of ownership. Plenty of articles exist promoting the reasons why fleet owners should consider switching to EVs. Although the initial purchase cost for an EV might be higher than for a fossil fuel vehicle, its total cost of ownership over the vehicle's lifecycle is less.
EVs have fewer moving parts which means less maintenance. Not only will this mean lower costs, but it also means less downtime. In general, an EV has about 20 moving parts. According to a recent Forbes article, a vehicle with an internal combustion engine has more than 2000 in the drivetrain.
Lower fuel costs. This portion of lower operating costs deserves closer examination. The equation involves multiplying an EV's kilowatt-hour per hundred miles (kWh/100) by the electricity rate found on the electric bills. This supplies the costs for electricity per 100 miles driven. Any fleet manager knows the typical number of miles driven per month, so an ROI can be calculated during the initial evaluation.
To help you, here is more information from the Idaho National Laboratory to explain this calculation. And while residential energy cost rates per kilowatt-hour vary depending on region, the national average is 14 cents.
Fleets typically operate during the day and park at night, allowing fleet owners to take advantage of other energy savings. Peak hours impact electricity pricing. A charge starting later in the evening, say after 11 p.m., can cost less on a tiered rate plan than charging during standard hours. And these options certainly cost less than charging fleet vehicles at a public charging station.
Want to verify your calculations? The engineers at any EV charger manufacturer will be able to help determine your ROI.
Better for the environment. EVs are better for the environment during ownership. In a paper published in October 2022 by the International Council on Clean Transportation, transportation accounted for 37% of greenhouse gas emissions (GHG) in the United States in 2019. EVs also are much quieter than fossil fuel alternatives to help reduce noise pollution.
Better performance and handling. Finally, EVs offer better acceleration than fossil fuel vehicles. EVs have near instantaneous torque, so they can accelerate quickly from a standstill. This makes them ideal for stop-and-go traffic and short trips, route descriptions that suit many small business owners. EVs also have a lower center of gravity, which makes them more stable on the road.
Meeting regulation goals. Many states, and the federal government, have goals of phasing out fossil fuel vehicles. In fact, the US has pledged a 50-52% GHG reduction by 2030. Also, various states have tax credit incentives or even funding assistance. Depending on the administration or the amount of funding available, this might change down the road. The quicker you can take advantage of these, the better.
Numerous benefits point to the practicality of fleet owners of any size installing charging stations in their transportation hubs or dedicated parking lots. Still have questions? Fleet owners can call BTC Power and talk directly with application engineers about available Level 2 AC charging stations for vehicles parked overnight. Or park a fleet vehicle on either side of our Level 3 split system, DC fast charging stations that offer a simultaneous charge to two vehicles. Contact BTC Power today to get started on your EV fleet planning.