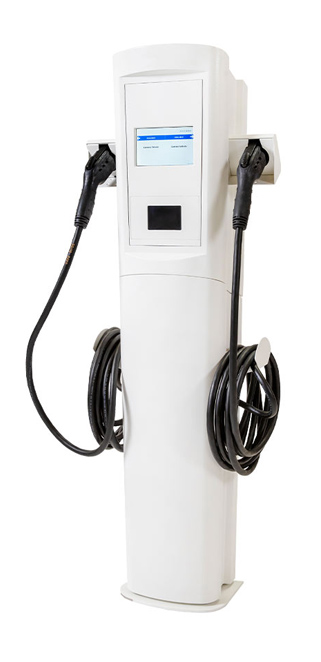 BTC Power's AC-L2 MaX family of products is the faster than ever, space-saving, and cost-effective choice. Dual 80 amp charging capabilities are perfect for high-power charging two vehicles at the same time. The L2 MaX comes fully calibrated, tested, sealed, and completely ready for installation for commercial purposes (certain RSA activities may need to be performed). Available in pedestal or wall mount style.
Features
Dual Ports are rated for 32, 48, 80 Amp (each)
SAE J1772; ISO 15118 Charging Protocol
Robust, NEMA 3R Housing
7" Color LCD Screen
Credit Card, RFID, Apple & Android Payment Options
ISO 15118 hardware capability
More Power for More Efficient L2 EV Charging Stations
Find more efficient charging power at your fingertips with the new L2 MaX commercial EV charger from BTC Power. This model increases available amperage up to 80 amps for a single or dual port charging station, designed to match breaker sizes to efficiently utilize available electric power.
What makes the L2 MaX revolutionary is the ability for the dual port model to charge at 80 amp on two ports simultaneously. This is a first in the industry and a significant benefit to fleet operators for trucks and/or buses due to its ability to rapidly charge larger batteries and two vehicles simultaneously. Depending on battery capacity, consumer vehicles can receive a satisfactory charge within two to three hours.
The L2 positions this latest introduction from BTC Power as an ideal commercial EV charger solution for locations where cars or vehicles will remain stationary for a shorter timeframe.
Other key differentiators of the L2 MaX include its competitive price point and the noteworthy addition of ISO 15118 capability—one of a select few commercial EV chargers at this level to combine dual 80 amps with this ISO distinction.
The L2 MaX can be pedestal or wall-mounted for greater flexibility and space-saving options. government incentives for charger installation coupled with the rapid integration capabilities underscores its market-leading potential.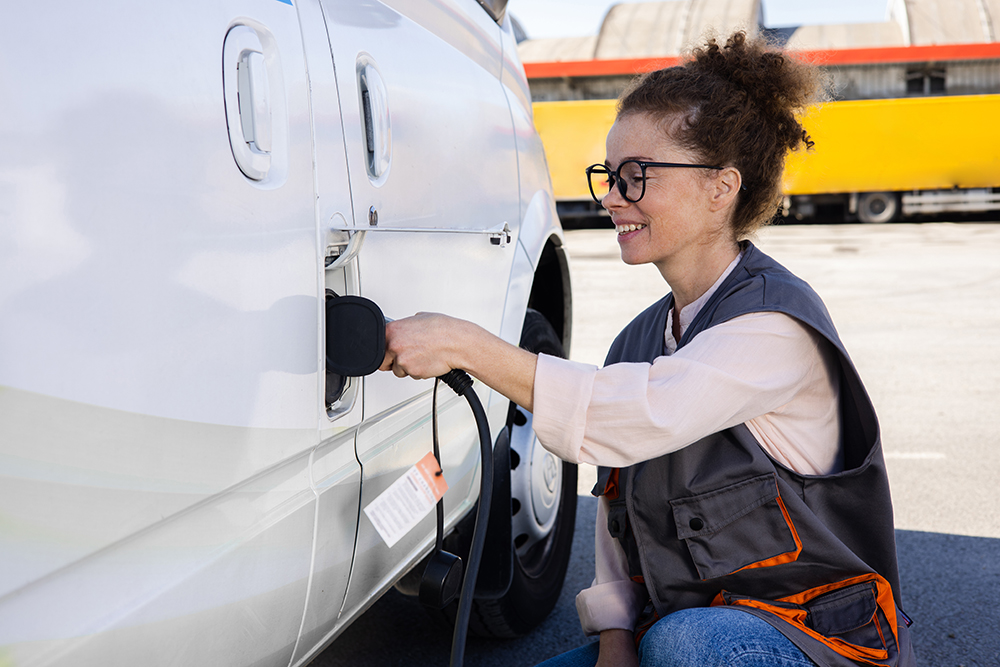 Unlimited application potential to meet customer demand for fast EV charging at a lower cost point
The rapid evolution of electric vehicles and the race for improved battery performance has led to a -diversified market with varied charging requirements. The new L2 MaX charger addresses this multifaceted demand. Its versatility makes this charging unit especially relevant for fleet owners with mid-sized trucks or delivery vehicles, buses, vans and more due to its dual 80 amps. Yet many different businesses and locations can take advantage of the L2 MaX as a top choice for an L2 commercial EV charger.
Commercial establishments like medical centers or office buildings can serve visitors, customers or employees who have considered adding commercial EV chargers should review the L2 MaX to fit the needs of their EV drivers.
Hospitals require reliable EV charging solutions for their own fleet vehicles as well as for visiting patients, doctors and staff. The L2 MaX guarantees that most model EVs on the market will charge within a few hours, fitting in neatly with the dwell time of most staff and visitors.
Hotels have a unique opportunity to attract guests searching for EV charging as an amenity. Overnight guests, after a day's journey, need the assurance of waking up to a fully charged vehicle, ready for the day ahead. The L2 MaX fits seamlessly into this narrative and deliver the hospitality experience you wish to extend to your guests.
With its ability to charge sizeable batteries efficiently, guests can rest easy, knowing their vehicle will receive a thorough charge. Additionally, ISO 15118 supplies broad compatibility to accommodate the vast majority of EVs to enhance a hotel's value proposition to potential guests.
Office buildings can benefit immensely from the L2 MaX charger for employees or visitors. The cost-effectiveness of an L2 charger, along with the high performance, not only provides a practical resource; it also fosters a green ethos within the workspace and builds a company's sustainability brand. Offering swift charging, broad compatibility and a user-friendly design, it supplies a viable choice for establishments that want to provide for and please guests, employees and visitors alike.
Multi-family residences looking for space-saving solutions. More and more drivers are switching to EVs, so it is no surprise that multi-family duelings will need to supply EV charging stations as either a benefit or to meet government regulations. The L2 MaX offers dual charging options with industry-leading performance.
Customer-friendly benefits of the L2 MaX commercial EV charger
The L2 MaX is designed to become an EV driver's favorite commercial charging station with dependable and customer-friendly benefits.
Customers will appreciate the unit's rugged durability, which helps it withstand a broad range of weather conditions in varied environments. Its compact 7-inch display can provide charging updates and any promotional messages that might apply to the different audiences expected at the charging locations. The screen can integrate with a commercial establishment's marketing strategy to display tailored ads, exclusive deals or personalized shopping suggestions. The L2 MaX comes standard with an RFID reader or optional credit card scanner to serve as a revenue source or reward center for commercial customers.
Integration a key for the L2 MaX
One distinguishing feature of the L2 MaX is the widespread testing across a range of vehicle models, makes and types, allowing for quick product integration with back-end providers. As the largest EV charger manufacturer in the country, BTC Power offers its customers one of the widest integration networks available for software compatibility between vehicles and chargers.