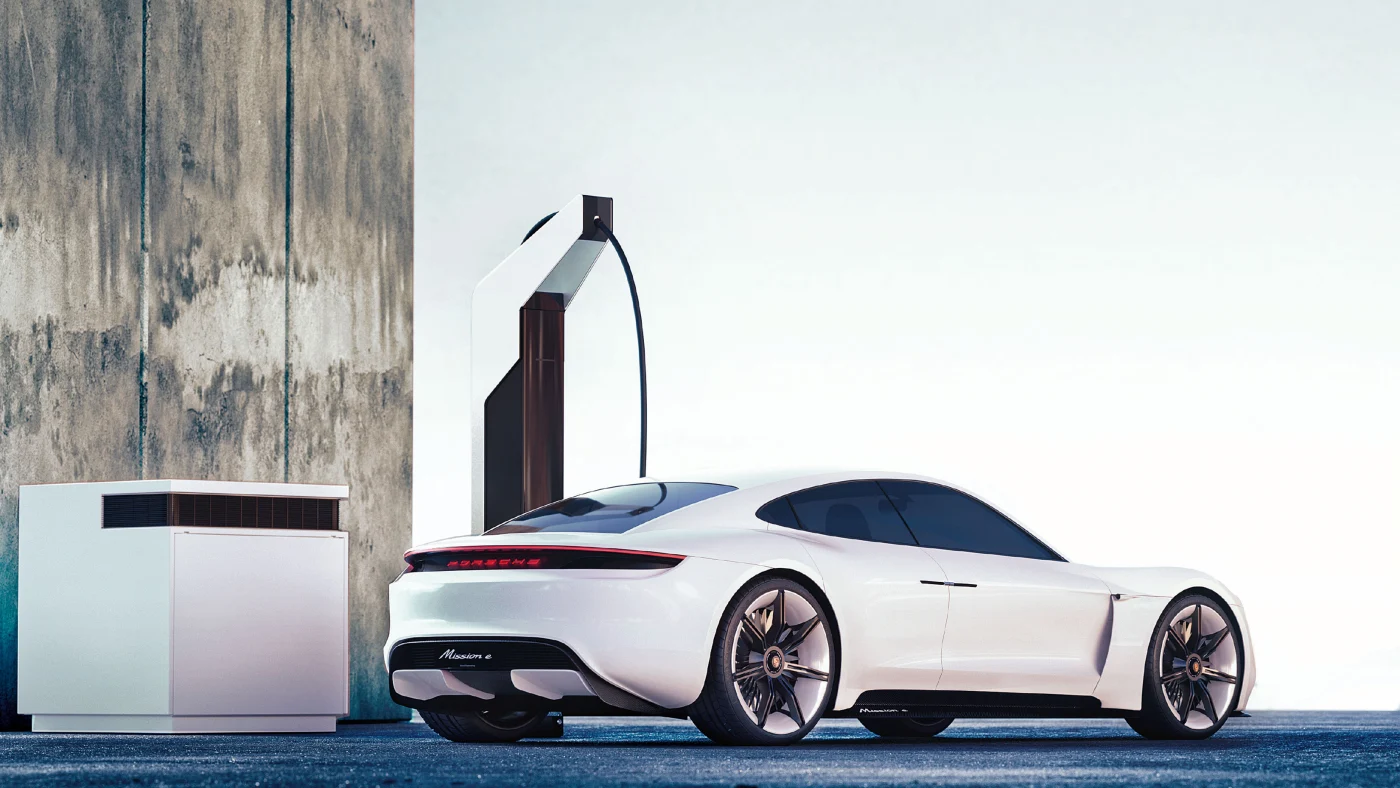 Porsche has disclosed more details on the ultra-fast DC charging equipment designed for installation at their dealerships and possibly other locations. The new chargers will support the forthcoming Taycan all-electric vehicle aimed for delivery in late 2019 or early 2020.
Like solutions from ABB, Efacec, Tritium, and other charger vendors it features a customer-facing charging pedestal along with the actual charging power electronics that is discretely located away from view.
Although Porsche hasn't disclosed any design partners, its angular pedestal design is identical to one featured outside the Santa Ana offices of BTC Power in California. The unit installed at BTC appears to be a non-functional prototype. Its 10-inch touch display screen shows a simulated Electrify America charging session.
BTC Power is one of the four charging equipment suppliers to Electrify America but the final pedestal design being supplied to them is completely different from the Porsche design. BTC Power already supplies many of the older dual-cable 50 kW chargers used by charging provider EVgo.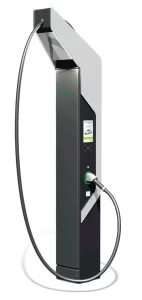 Behind the scenes, the hard charging power electronics is located in what Porsche calls a PowerBox. Each approximately 4 foot cubic PowerBox (120 x 120 x 130 cm) can include the charging hardware for up to two charging pedestals.
The PowerBox and pedestals can be located up to 328 feet (100 meters) from each other which allows for installation design flexibility. The charger is rated at over 95 percent peak efficiency using the latest silicon carbide electronics and supports charging voltages over 900V and can be configured to support so-called 350 kW charging rates.
These specifications are similar to new-generation charging hardware from several other suppliers. One aspect that is different is the placement of liquid-cooling components into a separate CoolingBox. Each box can "accommodate two cooling units, each of which provides reliable cooling for multiple charging points", according to a press release.
The liquid-cooling units chill the charging electronics and the ultra-fast charging cable and CCS connector at each pedestal. For installations with limited space, there is also a ComboBox design which integrates the charging and cooling for a single charging pedestal.
Porsche also has a stationary storage solution to enable high power vehicle charging even in areas with limited power availability. In this configuration, a ChargeBox would contain charging hardware for a single pedestal good for up to 160 kW along with 70 kWh of battery storage. The stationary battery is charged from the grid while the associated vehicle charging pedestal is not being used.
An alternative configuration sports a 140 kWh stationary storage battery and charging hardware for up to two 160 kW that is combinable to support up to 320 kW for a single pedestal.
The PowerBox, CoolingBox, and ComboBox share the same physical dimensions to enable a clean and consistent installation layout.
SOURCE:  https://electricrevs.com/2018/09/17/porsche-shares-details-of-its-ultra-fast-dc-charger-design/