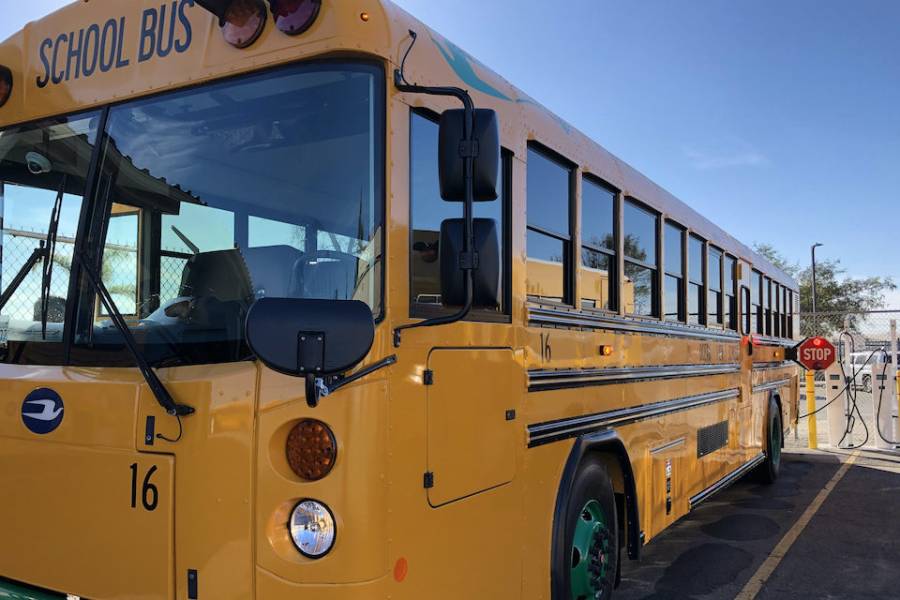 Ocean View School District in Oxnard has received grant funding and rebates for four all-electric buses and to fund a smart charging system from The Mobility House, headquartered in Munich with offices in Silicon Valley.
The Mobility House (TMH) smart charging system, ChargePilot, allows flexibility in managing the charging of the district's new fleet of four all-electric buses at the four new charging stations recently installed.
"This groundbreaking project for the district marks a notable milestone on our journey to electrify our entire school bus fleet and reduce pollution in our community," said Bob Brown, operations and transportation director for Ocean View School District. "The Mobility House team and their wealth of experience was invaluable for navigating not only the development of a sophisticated charging infrastructure but a new funding landscape as well."
The district received funding from the California Energy Commission (CEC) and Ventura County Air Pollution Control District for the fleet of four zero-emission electric buses and BTCPower chargers, made by Broadband TelCom Power Inc. in Santa Ana.
The new TMH system allows the district to manage all aspects of the fleet, including maintenance, charging and travel routes, to reduce overall costs to the district. By scheduling charging to avoid time-of-use rate charges, the system has the potential to save tens of thousands of dollars on the district's utility bills. The ChargePilot system also allows battery range to be factored into route planning and has an alert system built in.
"School buses are by far the safest way for kids to get to school. But diesel-powered buses are not safe for kids' developing lungs . . . Making the transition to electric school buses that don't emit pollution provides children and their communities with cleaner air and numerous public health benefits," said Patty Monahan of the CEC.
The district is one of the first in Southern California to participate in Southern California Edison's Charge Ready Transport Program, a funding program that provides needed infrastructure for the chargers. The local transformer had to be upgraded, with a panel and meter added and conduit laid. SoCal Edison also provided a 50% rebate for the cost of the charges.
Part of the grant-reporting requirements for the CEC funding includes charger usage data to track energy use; the ChargePilot system allows that to be easily tracked and reported.
TMC was founded in 2009 in Germany and today has offices in Silicon Valley, Munich and Zurich with customers in more than 10 countries. Current clients include automotive manufacturers such as Audi and Tesla, fleet operators, utilities and electric vehicle drivers. TMH systems have been used at two of the largest electric bus fleets in the U.S. at Metro Transit in the St. Louis area and in the EU at the Schiphol Airport in Amsterdam.