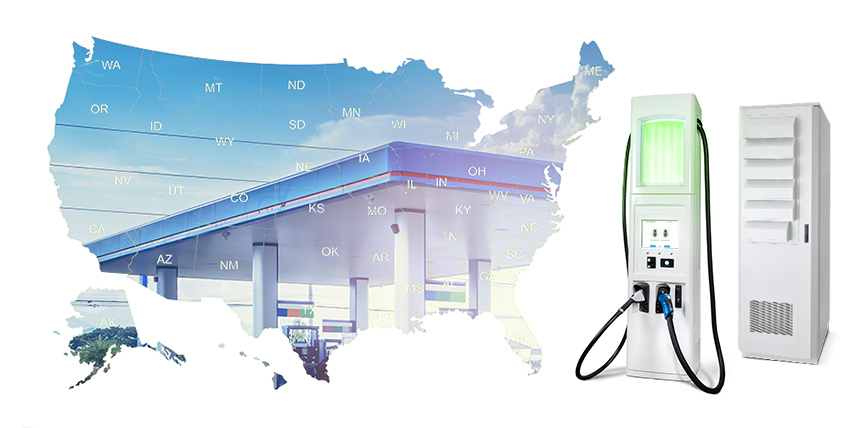 The shift toward greater sustainability has sparked a surge in purchases of all types of electric vehicles (EVs), from personal vehicles to fleets. In the first quarter of 2023, all-electric car sales increased by a big margin. EV registrations totaled 63 percent more than in the same period of the previous year. Tesla-manufactured EVs decreased from 72% to 60% of recent sales of EVs, pointing to the evolving and maturing market as the latest brands and models join the electrified highway.
The growth in EV ownership also presents businesses with an exciting opportunity to serve a new audience of drivers seeking DC fast chargers. And business owners can take advantage of the opportunity of available funding for the majority of the costs for an EV charging location through the federal government's NEVI (National Electric Vehicle Infrastructure) funding subsidies. Any location that meets NEVI funding requirements can cash in by installing EV charging stations.
If you've looked at NEVI funding and think this is something you want to pursue, here is a look at what type of EV fast chargers qualify for NEVI funding.
What is NEVI funding?
Let's quickly recap NEVI funding.
The US Department of Transportation's Federal Highway Administration (FHA) provides a NEVI Formula Program to issue funds to each state for distribution to improve the EV charging infrastructure. The funding covers up to 80% of eligible project costs, including the acquisition, installation, and network connection of EV charging stations.
Subsidies include the charger's ongoing operation, maintenance, and long-term data-sharing costs. To be eligible for this funding, EV charging stations must be non-proprietary, offer open-access payment methods, and be located along designated Alternative Fuel Corridors (AFCs), among other qualifications. Find general information here. All 50 states, Washington DC and US territories filed in time to receive the NEVI funding for distribution to interested business owners.
As with many government funding programs, there are requirements for the type of equipment to install. Here is a guide when selecting an EV charger that meets NEVI funding requirements.
Choosing the DC fast charger that meets NEVI requirements
The NEVI funding does not restrict business owners to any particular brand of EV charging station or restrict them to one EV charger manufacturer. While having the freedom to choose among commercial EV manufacturers, the station itself must meet the following criteria:
NEVI DC fast charging stations must be manufactured in America under the Build America, Buy America Act. The act requires federal infrastructure programs to only use materials and products produced in the United States. States can apply for waivers but may find it challenging to get approved.
Connection features. The EV chargers must be user-friendly across the wide range of makes and models of EVs. For example, DC fast chargers must permanently attach a "combined charging system" (CSS) charger.
Payment methods. Not only does your EV charging station have to allow secure, contactless payment methods such as debit or credit cards, but it will also have to accept phone-connected payment systems through an app or messaging system.
Accessibility. Charging stations must comply with ADA requirements giving ample access space for useability to persons with disabilities or using assistive devices.
Charging capacity. The goal of the NEVI funding program is to encourage the use and adaptability of EV infrastructure, but you'll also want to be sure the EV chargers you choose fit your business's needs. For a better customer experience, future-proofing and the ability to serve as many EVs as possible, consider installing DC fast chargers, even though some models can provide faster charging than NEVI requires. The original requirement was 150 kW per charger continuously through four charging ports. This means the EV charger station must be able to charge each vehicle at 150 kW. However, some locations are allowing L2 chargers. Contact your state's NEVI department to get the exact qualifications you need.
Maintenance. Of course, the program expects the chargers to be in operational status all the time. NEVI-compliant EV chargers must have 97% uptime for five years, with any repair restored to fully operational status within 48-72 hours. You'll need to consider the availability of service technicians in the area for your EV chargers that will be able to meet this requirement.
Networking capabilities. Since you most likely have networking capabilities at your location, this requirement shouldn't be too hard to meet. You'll need to make sure this is part of your installation. The networking capabilities are for the payment methods above and for remote monitoring. Also, seamless data collection and access are critical to efficient operation and maintenance.
The easiest route to meeting all the standards listed above is to first go with a NEVI-compliant charger from a commercial EV charger manufacturer. Then look for a brand with a reliable track record, excellent customer support, and a warranty or service team for the charging stations. This will help with any of the aftermarket services you need.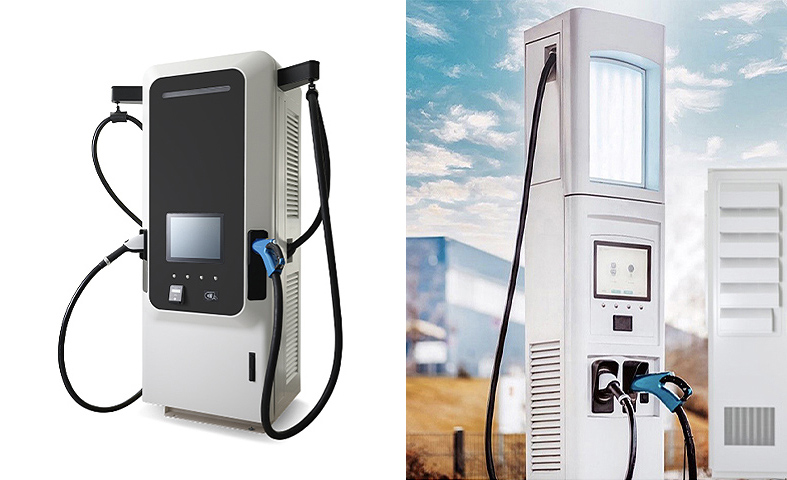 DC fast chargers eligible for NEVI funding
You can find a DC fast charger that meets NEVI-compliance requirements from BTC Power, an onshore commercial EV charger manufacturer founded in 1999. The GEN4 180 All-in-One DC Fast Charger is not only NEVI-compliant but also provides an 80% EV battery charge in as little as 10 to 15 minutes. Fast DC EV chargers are a favorite among EV drivers and ensure more foot traffic to your location.
The Gen4 offers a port on either side of the charging station to service two customers simultaneously and keep traffic moving in less time than other single-port competitive chargers. Other friendly features include:
Small footprint to help maximize layouts and use of available real estate
Connector options that fit a wide range of vehicles on the road
Easy-to-handle lightweight, liquid-cooled cables for 500A continuous charging
Large touchscreen to enable promotional messaging
Credit card and RFID payment options
Modular system that enables future upgrades
Don't delay – take advantage of NEVI funding now
One key recommendation is—don't wait. NEVI funding is available during the next five years but only allocated to one or two businesses in the same location.
And as retail giants like Walmart expand their installation of EV charging stations, independent or small chain store owners will want to be early adopters of EV technology to stake their claim in this new market arena. The number of EVs on the road is growing every year and will eventually comprise the majority of vehicles on the road. This is your chance to get the EV charging infrastructure you need and only pay 20% of all the costs.
Make the smart business move to install an EV fast charging station. Tap into this growing shift from combustion engine vehicles to EVs while contributing to a greener future—for the planet and for your store profits. And get the government to pay for 80% of it. Contact BTC Power today to find out more.