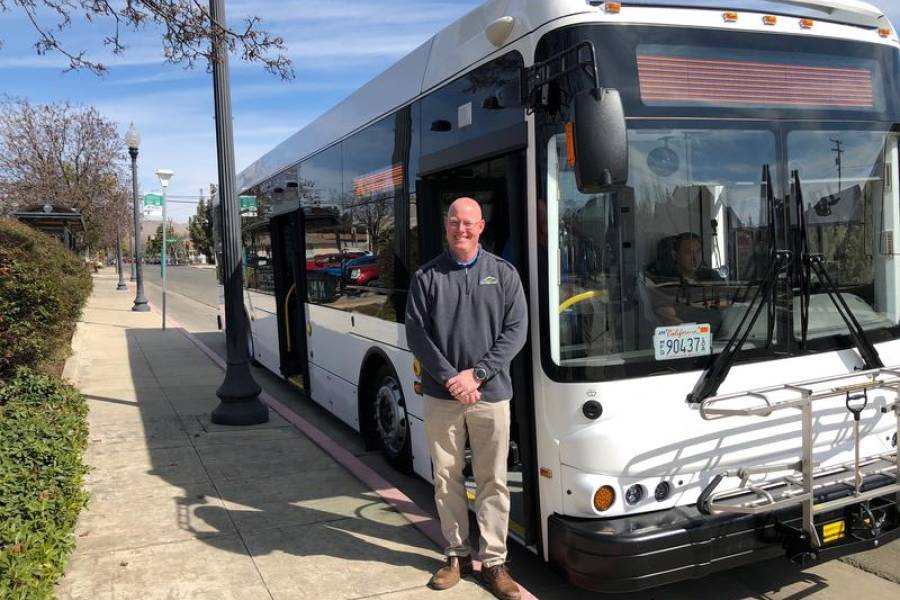 California has some of the highest-reaching goals in the nation when it comes to reducing carbon emissions. Our state is also where some of the most innovative clean technology is developed and manufactured. One electric bus company is setting up shop in California, and it's already changing transit in one Central Valley town.
When you think of electric vehicles, you probably think of Tesla, Silicon Valley, and automakers in Southern California like Toyota. It's likely that you aren't thinking of Porterville, a small city near the foothills of Tulare County. But that could change.
Richard Tree is the transit manager for the city of Porterville. Last week, we took a ride on the first of ten electric buses purchased by the city.
Like many electric vehicles, it was so quiet that I had to ask if it was on.
With the help of a grant from the California Air Resources Board, Porterville bought ten electric buses from Canadian startup, GreenPower Motor Company Inc. These battery-powered buses will replace nearly half of their fleet, and they're one of the first valley cities to make such a dramatic switch.
At the same time, GreenPower is building its first North American assembly plant in Porterville.
"My feeling is that Porterville has won the lottery of one being awarded $9.5 million to buy transit buses," Tree says. "But we won the lottery with GreenPower choosing Porterville."
"We just made our first public transit delivery just yesterday, and you were on it," says Brendan Riley, president of GreenPower.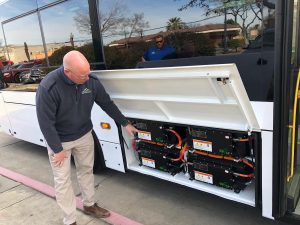 Up until now, GreenPower has been selling buses as shuttles for tourist companies and airports.  GreenPower isn't the first electric bus company to move to the state, but it is the first to settle in the Valley.
"The reason we chose Porterville is that it's located in the San Joaquin Valley, a place that needs this technology more than anything else," says Riley. "So we just saw it as really a convergence of need for the product, a great location to build, and a partner in local transit property that was sophisticated enough to deal with this technology and help incorporate it and work collaboratively with us."
The plant isn't built yet. The buses Porterville has were actually built at a contract factory in China.
Riley hopes more nearby transit agencies take the leap and adopt electric buses. The transition, though, can be hard. Porterville officials say they'll have to train bus operators on how to efficiently drive an electric one.
John Drayton is the former director of vehicle technology for LA Metro. He wrote the plans to transition the agency's fleet to zero-emission vehicles, including electric ones.
While LA Metro has always been an early adopter of clean, new technology, Drayton can attest to the growing pains.
"You would always have a couple old line mechanics that said, 'I'm never going to touch those things, are you out of your mind?'" says Drayton. "They'd self-select and say, 'I'm not going to deal with natural gas and new technology.' We saw the same with battery electric buses. We had operators that refused to drive them, we had mechanics that said they're not going to touch them. Just the personnel issues going to new technology are significant."
The battery bus available today is not a perfect replacement for your standard transit bus. – John Drayton
Now as a consultant, Drayton is helping other transit agencies make the switch to cleaner technology, but he says that doesn't always mean electric.
"The battery bus available today is not a perfect replacement for your standard transit bus. Natural gas continues to be a great option and a great alternative," says Drayton. "So it's not like there's a perfect single solution out there that fits everyone. That may come down the road, we may see something in the mid-2020s."
Whether electric is the best option or not, the California Air Resources Board may soon decide that electric buses are the only option, at least when it comes to replacing old diesel or natural gas buses.
Dean Florez is a member of the California Air Resources Board and a former state senator from Kern County.
"I think you need to mandate the fact that when you have an opportunity to retire a diesel bus or a CNG bus, that it's just got to be an electric bus," says Florez. "I think with that comes some incentives from our cap-and-trade program to allow people to move into that new environment."
Right now the Air Resources Board is working on the Innovative Clean Transit Rule, which has a goal to achieve zero-emission transit by 2040. Florez hopes that this is the first step to getting other diesel-reliant industries to adopt cleaner technology, too.
"One of the biggest things that buses can do if we can get this done is then transform other industries, heavy duty industries like school buses," says Florez. "It isn't just about transit. I think in some sense it's about being a leader in large machinery field with electrification."
In Porterville, Richard Tree is more than happy to be a leader.
"We took the risk of jumping in first but it's paying off the benefits as an agency that struggles to find funding," says Tree. "So we're not stopping there. Ten is great, but we've made a commitment to be a hundred percent zero-emission fleet-wide."
He plans to introduce the electric buses to city streets as early as next month. GreenPower hopes to start assembling buses by the end of this year.
SOURCE:  https://www.kvpr.org/post/electric-buses-are-coming-porterville#stream/0