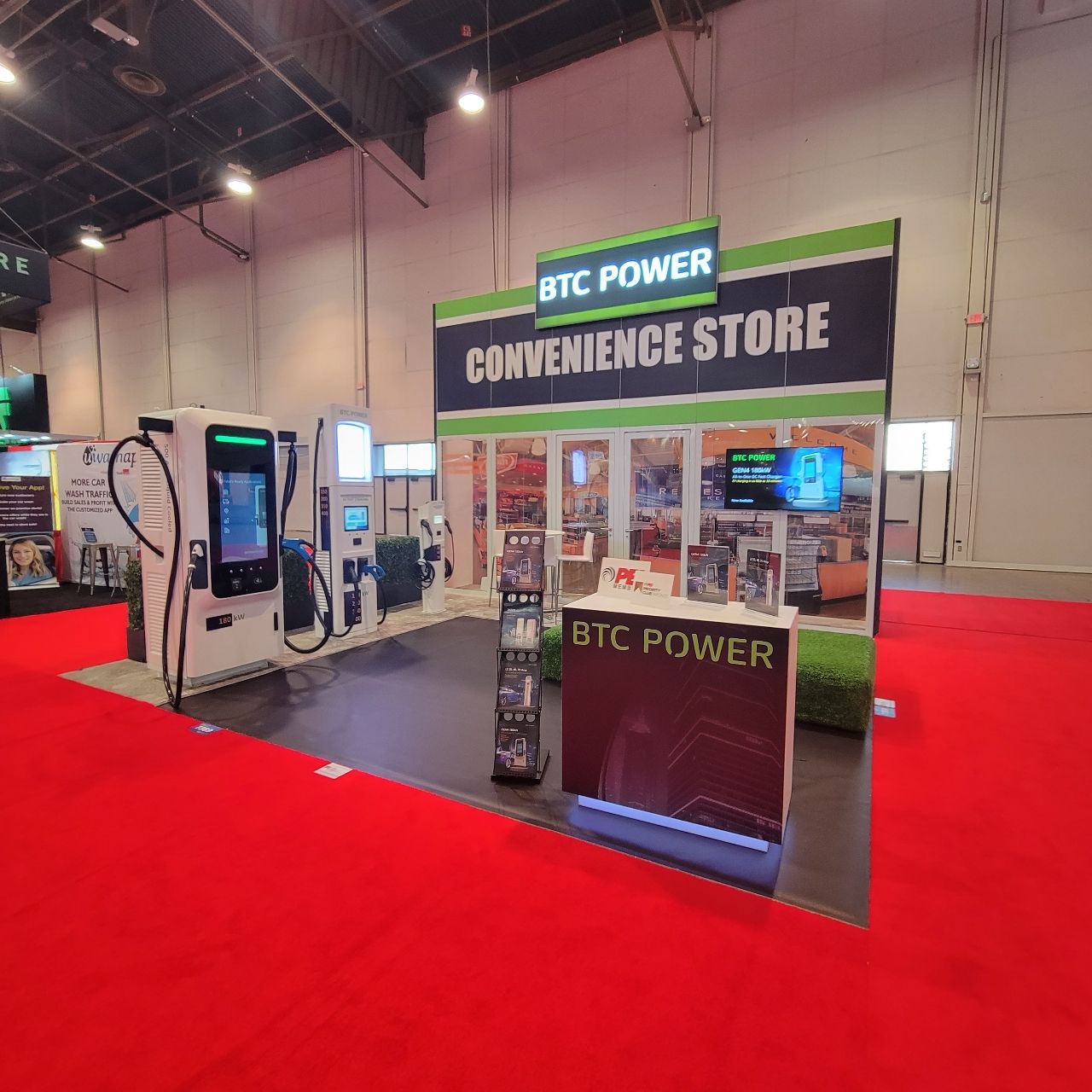 Las Vegas, NV – October 3, 2022 – BTC POWER®, a leading manufacturer of electric vehicle (EV) charging systems, introduced its 180 kW All-In-One (AiO) DC Fast Charger at the NACS Show today. This is the latest of the new Gen4 product family, providing an 80% EV battery charge in as little as 12.5 minutes. With two touchscreen options of 15" or 32", ADA compliant retractable cables and simultaneous charging, and up to 500A the 180kW AiO sets the standard for the next generation of EV charging.
"BTC POWER is focused on continuing its legacy of innovation in the electric mobility industry. We're proud to design and construct EV chargers that help meet the increased demand, investment, and desire for electrification infrastructures as an alternative to traditional fueling options." said Michael Wagner, Chief Operating Officer at BTC POWER.
BTC POWER focused its unit on charging at 150kW (or eight miles per minute) and more, ensuring that customers can charge between 12.5 – 30 minutes to receive 200-250 miles of range. Standard cables for this type of system typically require 35-40 minutes of charge time. This makes the new 180 kW AiO ideal for fleet operators, charge point operators, fueling stations, convenience stores, retail centers, heavy duty transit shuttles, school buses and other specialty vehicles.
"The 180 kW All-In-One charger addresses the needs across a myriad of verticals. Its core platform not only addresses the current demand, but it is built on the foundation that allows it to adapt to the needs of future vehicles and their evolving battery requirements," added Wagner
The 180 kW AiO features a compact design with footprint similar to a standard gas pump. The lightweight, 500A liquid cooled cables make the charger easier for anyone to use. Retractable cables mean longer cables to reach vehicle charge ports, resulting in an improved customer experience. CCS1 And CHAdeMO connector options are available.
Customizable touchscreens (15-inch or 32-inch) provide ample space to communicate messages to customers, ranging from specials and promotions to corporate communications to streaming television and everything in between.
Each 180kW AiO unit can charge two EVs at a time continuously. This means the unit can serve more customers in less time.
Connectivity and security are critical components. The 180 kW AiO connects through LAN, WiFi or cellular technology. It offers credit card and RFID (near-field) payment options through these systems.
The design and configuration of the 180 kW AiO allow the unit to be updated to stay in compliance with site and regulatory requirements. This means decreased out-of-service time and more time to serve EV charging customers.
Built to withstand a wide variety of temperatures and conditions, the 180 kW AiO's design and construction mean a lower cost of ownership. When maintenance and repair are necessary, the side or front doors provide easier access and these services can be performed by one person.
BTC POWER offers unique and customizable AC and DC charging solutions. The innovative e-mobility manufacturer offers service plans, maintenance and training on all products.
To learn more about BTC POWER or schedule a consultation, please visit btcpower.com.
About BTC POWER:
BTC POWER is a leading manufacturer of electric vehicle charging systems in North America. BTC POWER's product portfolio consists of both DC and AC charging systems with power ranges from 6.6kW to 350kW. With over 18,000 charging systems sold worldwide, BTC POWER's DC Fast Chargers and AC Chargers serve Charge Point Operators, Oil & Gas, Convenient Stores, Retail Centers, Fleets and more for charging electric vehicles, heavy duty transit shuttle and school buses, fleets, and other specialty vehicles. To learn more about BTC POWER, please visit btcpower.com.