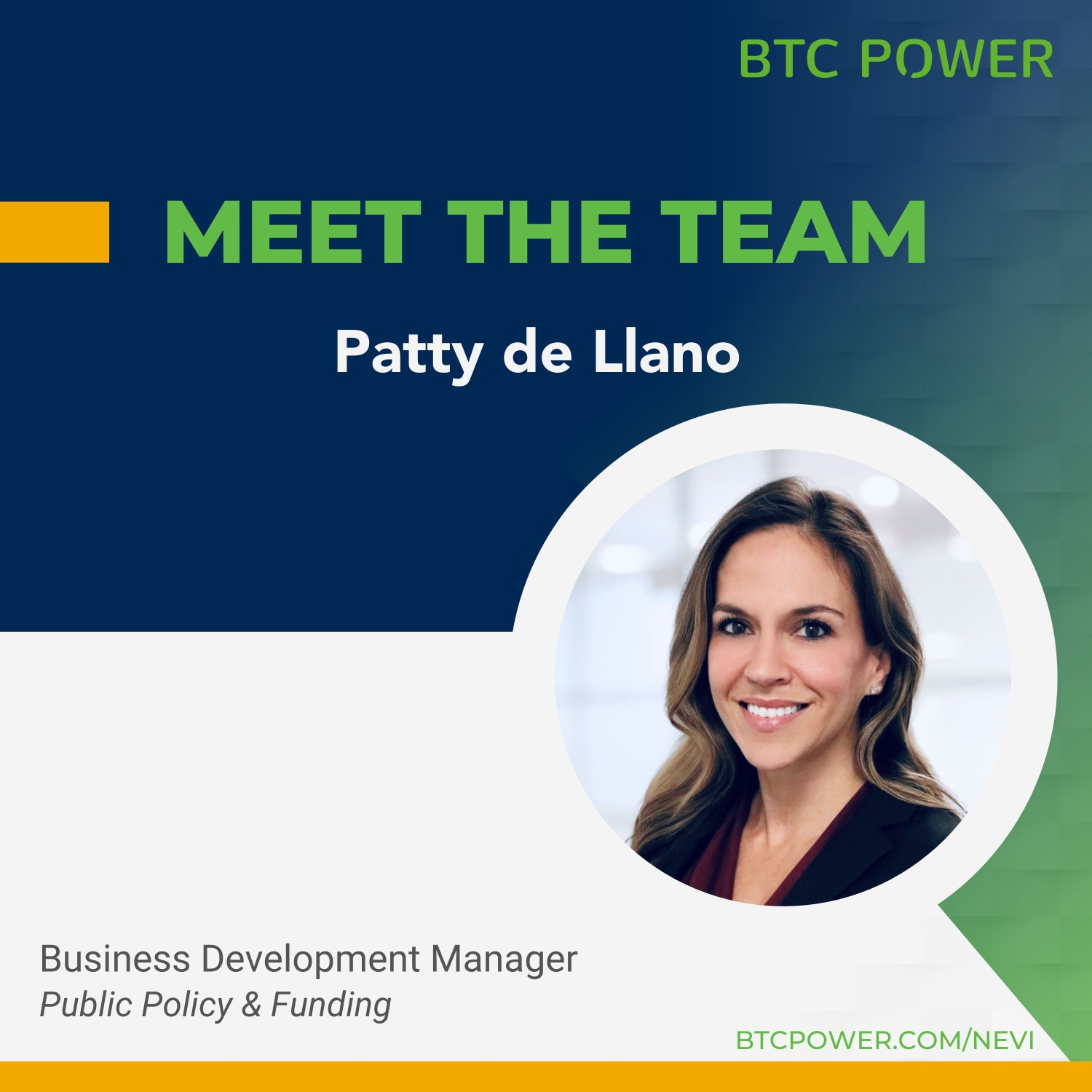 FOR IMMEDIATE RELEASE
BTC POWER Hires Business Development Manager for Government Funding Opportunities
September 25, 2023, Santa Ana, CA:  BTC POWER is proud to announce the appointment of Patty de Llano as the new Business Development Manager of Public Policy & Funding. With a remarkable history spanning 17 years in EV and technology, Ms. de Llano brings unparalleled experience and a profound understanding of the intricacies of government funding processes, including NEVI funding and the IIJA bill. With utilities and state sponsored grant opportunities presenting significant incentives to those installing EVSE, BTC POWER is now able to help guide customers through the myriad of programs that will offset the total cost of ownership.
Holding a Bachelor of Science degree in Electrical Engineering, Ms. de Llano possesses a unique blend of technical knowledge and sales acumen, making her a dynamic leader poised to drive strategic partnerships and foster growth in government funding initiatives.
"We are thrilled to welcome Patty de Llano to our team," said Michael Wagner, Chief Operating Officer. "Her extensive experience in EV and technology, coupled with her engineering background, gives her a distinctive edge in identifying and seizing opportunities within the government funding landscape. We believe her background will further strengthen our commitment to leveraging NEVI funding opportunities to assist our customers in the EV space." Throughout her career, Ms. de Llano has consistently demonstrated an ability to navigate complex markets and establish enduring relationships with key stakeholders.
"I am honored to join the BTC POWER family and lead the government funding initiatives," said Ms. de Llano. "I'm excited to leverage my experience to connect our innovative solutions with the support and resources that government funding can provide. Together, we will drive forward advancements that benefit not only our company but also the eMobility landscape."
Ms. de Llano's appointment signifies the BTC POWER commitment to investing in top-tier talent to deliver excellence in every facet of its operations. As the company continues to chart new paths in eMobility, she is set to play a pivotal role in forging strategic partnerships, securing funding opportunities, and propelling the company to new heights of success. Ms. De Llano will join BTC POWER at the NACS Tradeshow 2023 floor in Booth #B4949. Ms. de Llano can be reached at [email protected]
About BTC POWER:
BTC POWER is a leading manufacturer of electric vehicle charging systems in North America. BTC POWER's product portfolio consists of both DC and AC charging systems with power ranges from 6.6kW to 360kW. With over 18,000 charging systems sold, BTC POWER services Charge Point Operators, Oil & Gas, Convenient Stores, Retail Centers, Fleets and more for charging electric vehicles, heavy duty transit shuttle and school buses, fleets, and other specialty vehicles. To learn more about BTC POWER, please visit btcpower.com.
Marketing Contact:
Caitie Romano, Marketing and Communications Manager
BTC POWER
+1 714-504-7604
[email protected]