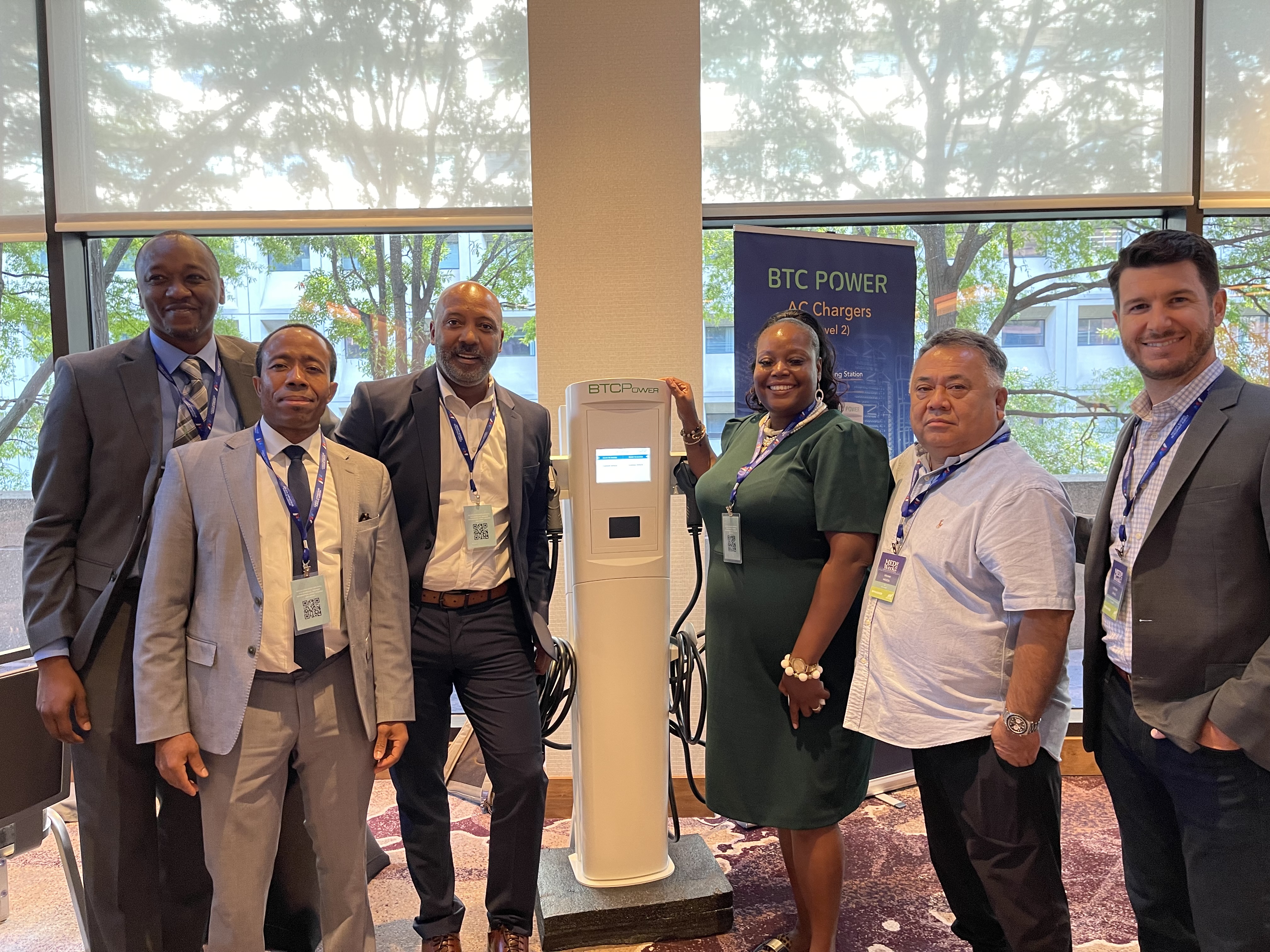 Santa Ana, CA – September 21, 2022 – BTC POWER®, leading manufacturer of electric vehicle (EV) charging systems attended the Minority Business Development Agency (MBDA) Minority Enterprise Development (MED) Week Conference in DC to encourage and support Minority Business expansion into the eMobility Space. This conference celebrated the outstanding accomplishments of minority-owned companies and held informational and networking sessions to create new connections providing fresh perspectives.
The BTC Team participated in the panel discussion "Evolving Transportation: MBE Supply Chain Opportunities in the Electric Vehicle Boom" as the OEM perspective of EV Charging Infrastructure. They discussed the Biden Administration's historic, nation-wide investment in EV Charging and how this will benefit underserved and rural communities. In addition, A "Meet the CEO" event was held with our CEO and Founder, Frank Meza, a minority himself, before the panel.
"BTC POWER was founded as an MBE, and it was great to re-connect with other entrepreneurs with the same drive. It is critical that we build a skilled workforce specialized in electric mobility to install and maintain the EV Charging infrastructure that will need to be installed in the next 5 years as part of public and private investment. Organizations like MBDA and the private individuals and companies they support, will be instrumental to ensure the US has the right people in the right locations."- Frank Meza, CEO and Founder at BTC POWER.
The BTC Team was joined on the panel by Suraiya Motsinger, DOT's Federal Highway Administration, Tracy Marcinowski, Assistant Commissioner for Acquisitions, at GSA, Monisha Shah, US Department of Energy, newly created Joint Office of Energy and Transportation, Dr. Shelley Francis, EVNoire, Managing Partner & Co-Founder of EVNoire Mobility Intelligence Consulting Group and Stephen Israel, Senior Director of Product Management, BTC Power.
BTC would also like to provide a special thanks to Ms. Angela Washington of The US Department of Commerce and the MBDA's first ever Under Secretary Mr. Donald Cravings for the invite and throwing a fantastic event.
About BTC POWER:
BTC POWER is a leading manufacturer of electric vehicle charging systems in North America. BTC POWER's product portfolio consists of both DC and AC charging systems with power ranges from 6.6kW to 350kW. With over 18,000 charging systems sold worldwide, BTC POWER's DC Fast Chargers and AC Chargers serve Charge Point Operators, Oil & Gas, Convenient Stores, Retail Centers, Fleets and more for charging electric vehicles, heavy duty transit shuttle and school buses, fleets, and other specialty vehicles. To learn more about BTC POWER, please visit btcpower.com.
Marketing Contact:
Caitlin Romano,
Marketing and Communications Manager
BTC POWER
+1 714-504-7604
[email protected]