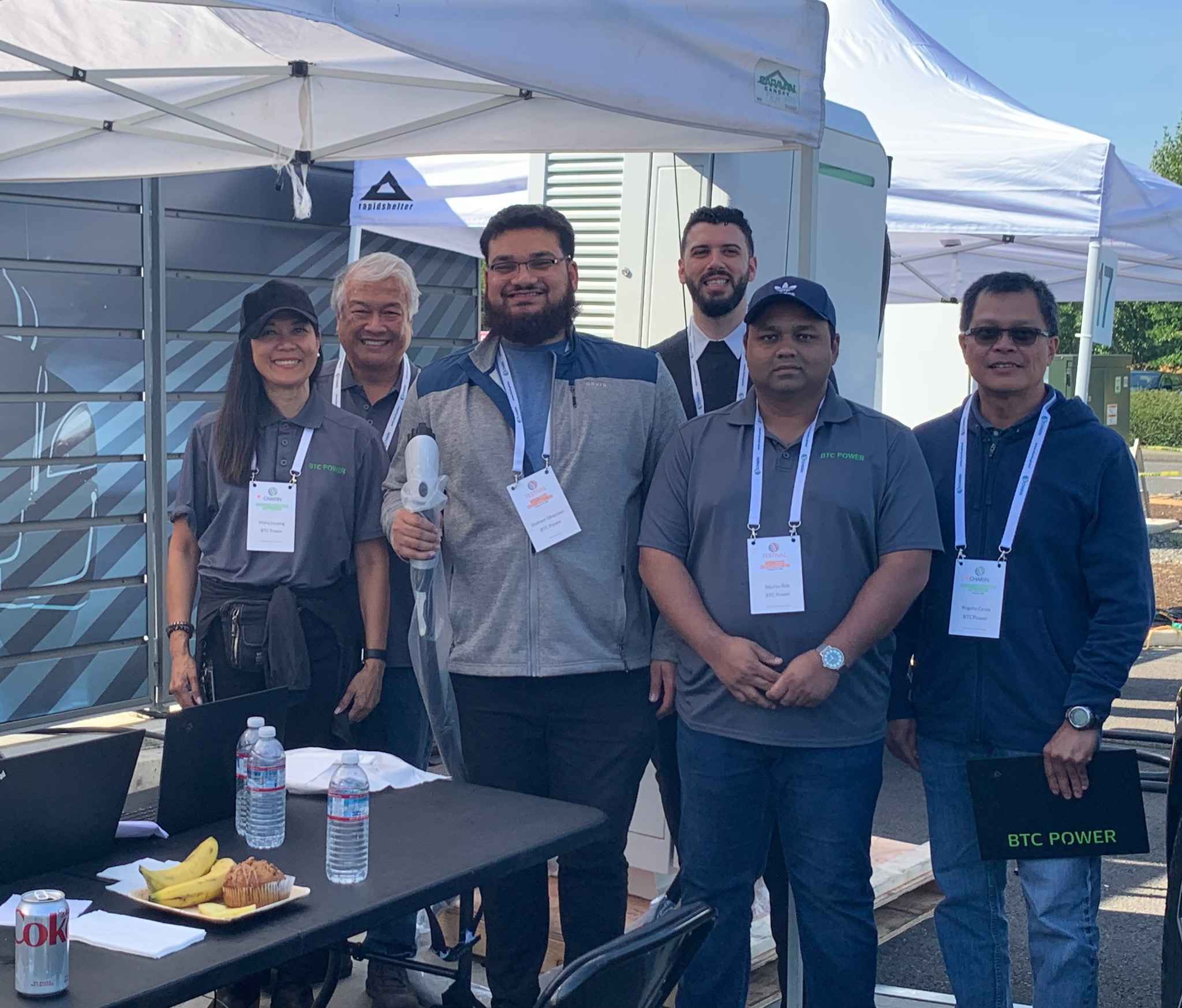 FOR IMMEDIATE RELEASE
Santa Ana, CA – April 4th, 2023 – BTC POWER, a leader in electric vehicle (EV) charging systems manufacturing, recently earned the Charging Reward for its top scores in Daimler's eCascadia Charging Challenge at the 2022 CharIN Testival & Conference North America. BTC POWER is proud to announce its participation in the 2023 Vehicle Interoperability Testing Symposium (VOLTS) in Long Beach, CA, May 9-11th 2023.
BTC POWER was one of over 50 CharIN (Charging Interface Initiative) member companies to participate in the event and stand up to the rigorous conformance and interoperability tests on its 180kW All-in-One DC Charger.
"BTC POWER is proud to be a member of CharIN. The Testival event was a great opportunity for the EV charging industry, and it provided a litmus test for us to see how we measure up. The Daimler name is synonymous with quality and advancement in transportation. Earning the Daimler Charging Reward shows the high level of quality and innovation of our charging systems," said Carlos Cortes, CTO, BTC POWER. "We're honored to be considered in such an elite manufacturing class and look forward to this year's newly named event, VOLTS."
The Charging Reward was awarded to companies who pass all relevant tests on their first attempt during the Testival. The electric vehicle supply equipment (EVSE) tests included payment systems, OCPP and internet connectivity checks. The test plan included plug in and charge without any payment or internet connectivity required; plug in and charge with payment required; and a scheduled start charge time from Detroit Charge Management System (CMS). All tests had to be completed with documented processes and prove to have no errors to be considered passing.
BTC POWER has been a member of CharIN since February 2022 and currently contributes to 5 focus groups. The charging company's all new Gen4 180 kW All-in-One was tested and evaluated at the event.
The 2022 CharIN Testival event provided the first opportunity for the leading charging manufacturers to assemble and conduct interoperability testing on a dozen medium- and heavy-duty (Class 6-8) vehicles at DTNA Electric Island in Portland, Oregon. The event was hosted by Daimler Truck North America LLC.
About BTC POWER:
BTC POWER is a leading manufacturer of electric vehicle charging systems in North America. BTC POWER's product portfolio consists of both DC and AC charging systems with power ranges from 6.6kW to 360kW. With over 18,000 charging systems sold, BTC POWER services Charge Point Operators, Oil & Gas, Convenient Stores, Retail Centers, Fleets and more for charging electric vehicles, heavy duty transit shuttle and school buses, fleets, and other specialty vehicles. To learn more about BTC POWER, please visit btcpower.com.
The Charging Interface Initiative e. V. (CharIN) is the leading global association with more than 290 international members dedicated to promoting interoperability based on the Combined Charging System (CCS) and the Megawatt Charging System (MCS) as the global standard for charging vehicles of all kinds. Our goals include expanding the global network of companies supporting CCS, drafting requirements to accelerate the evolution of charging related standards, and defining a certification system for all manufacturers implementing CCS in their products.
About Daimler Truck North America
Daimler Truck North America LLC, headquartered in Portland, Oregon, is a leading provider of comprehensive products and technologies for the commercial transportation industry. Daimler Truck North America designs, engineers, manufactures and markets medium- and heavy-duty trucks, school buses, vehicle chassis and their associated technologies and components under the Freightliner, Western Star, Thomas Built Buses, Freightliner Custom Chassis Corp., and Detroit brands. Daimler Truck North America is a subsidiary of Daimler Truck Holding AG (DTG), one of the world's leading commercial vehicle manufacturers.
Marketing Contact:
Caitie Romano, Marketing and Communications Manager
BTC POWER
+1 714-504-7604
[email protected]