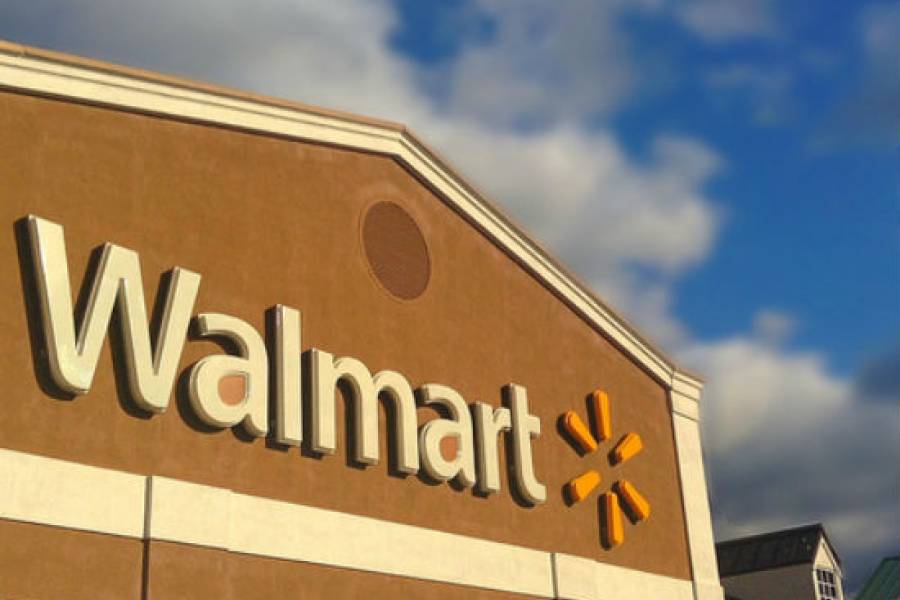 Walmart shoppers soon will have far greater access to stations where they can charge up their electric cars quickly while they buy goods and groceries.
The world's largest retailer announced today that it will work with Volkswagen subsidiary Electrify America to roll out fast electric vehicle chargers at 100 locations across 34 states by the summer of 2019. The project will double the number of EV chargers installed at Walmart locations.

Walmart's investment in EV charging infrastructure underscores just how quickly electric cars are becoming more mainstream. While the vast majority of Walmart shoppers don't currently own EVs, the new charging infrastructure is meant to last at least 10 years. So the retailer is making a bet on the future.
In close to two decades, 54 percent of new car sales will be electric, Bloomberg New Energy Finance predicted. Electric cars could be cheaper to buy and use than internal combustion engine cars in most countries starting in 2025, the analysts estimate.
Mark Vanderhelm, vice president of energy at Walmart, told GreenBiz that the company is expanding the amount of electric vehicle chargers to deliver a better "customer experience." "There's a transition [to electrification] happening and this is our opportunity to participate in that transition," he said.
Walmart already has electric car chargers at about 100 locations, working with vendors such as EVgo and ChargePoint, as well as Tesla. Partnering with Electrify America will enable the next rollout of chargers "to have a single customer experience with a national footprint," Vanderhelm said.
The Walmart charging network will use faster chargers than the current standard ones that are in use today. The DC chargers will be able to offer between 150 and 350 kilowatts of electricity, enabling customers to charge up 20 miles of battery range per minute. That's seven times faster than the charging rates of 50-kilowatt DC chargers. The vast majority of public chargers currently installed are "level 2" chargers, which are slower than DC chargers.
"This is a technology that is changing quickly. To be relevant, you have to be at the forefront," Vanderhelm said. "Over time, it could get down to a level where charging is like a gas fueling station."
"The charging options today simply take too long," said Wayne Killen, senior director of infrastructure, planning and business development at Electrify America. "Power equals speed in DC fast charging. The more power, the faster you can charge the vehicle."
Working with Walmart is an important win for Electrify America. The company, a division of VW, was created as part of a settlement after the automaker was caught cheating on its diesel vehicle emissions tests.
The group has a $2 billion electric vehicle charging infrastructure plan, and it began rolling out some of its first chargers last summer. The first part of its program is to install 2,000 chargers at close to 500 sites.
This week, Electrify America also said that it plans to work with four vehicle charging infrastructure vendors — ABB, Signet EV, Efacec Electric Mobility and BTC Power — to deploy those 2,000 chargers.
Site acquisition … is one of the most important things you can do in the charging business.
Signing Walmart as a partner enables Electrify America to secure valuable real estate where users can shop while their cars charge. "Site acquisition … is one of the most important things you can do in the charging business," Killen said.
There were around 16,000 public electric vehicle charging stations across the United States as of mid-2017, and that number is expected to grow quickly over the next few years as more consumers and companies invest in electric vehicles. But just 13 percent of those chargers are DC fast chargers. 

Companies from various sectors are trying to figure out how to invest in the rollout. Utilities in fast-moving states such as California are planning on building out networks. Meanwhile, automaker Tesla has spent the last few years creating its own proprietary charging network, which is nearing 1,200 stations.
Walmart and Electrify America didn't specify the vendors they would use for the deal, and they also declined to comment on how much money will be invested in the new project. Killen described the size of the deal as "significant."
Walmart will start deploying the first fast chargers in the next three to five months, with the remaining to be built out within the next 18 months, Vanderhelm said.
SOURCE:  https://www.greenbiz.com/article/walmart-double-ev-charging-network-electrify-america