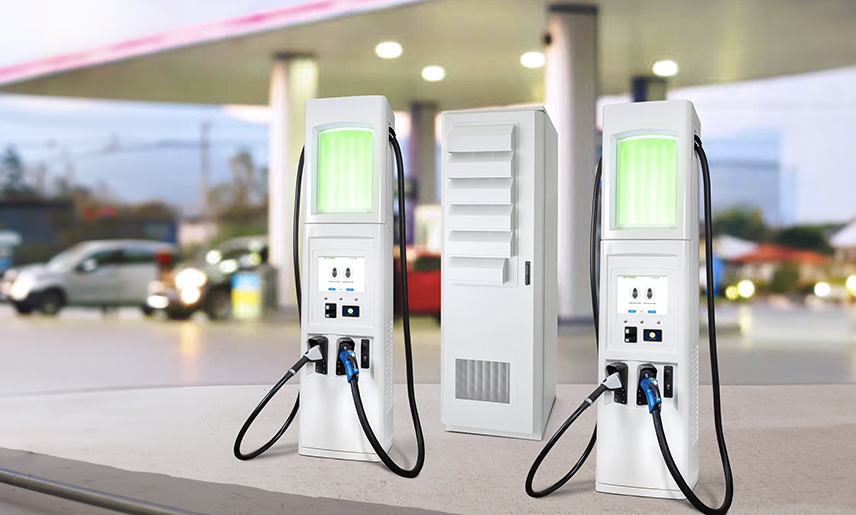 ICE (internal combustion engine) vehicles are being put on ice, figuratively, as governments across the globe have set phase-out targets ending the sales of ICE vehicles. Countries with the most ambitious timelines include Norway and the Netherlands. Norway dictates that by 2025 buses entering service must be zero-emission vehicles—with passenger cars and other light commercial vehicles not far behind.
In the United States, California is at the forefront of efforts to ban the sales of ICE vehicles by 2035 in favor of more sustainable modes of transportation, with other states following with ambitious goals to phase out ICE sales.
As electric vehicles (EVs) gradually replace their combustion engine counterparts, massive efforts are underway to establish the infrastructure necessary to serve this transition.
The rise in building EV chargers will challenge the creation of new infrastructure that can provide adequate power. Proper management of this energy transition can help avoid stress on the electrical grid. Multiple reports state that the power grid capacity is available to handle the influx of EVs by employing different management strategies, such as dynamic power sharing across multiple charging ports.
What is a dynamic power sharing EV charging station, and why is it important?
The increase in EV sales makes public charging stations as much of a necessity as gas stations are now. Currently, an electric charge takes more time than pumping gas. However, the race to shorten this timeframe is on and will soon enable customers to charge more quickly.
How do we balance the need for more charging ports while still enabling fast charging times? One of the answers is in Modular EV charging systems consisting of multiple charging ports/dispensers that can share the power available in the charging system through dynamic power sharing.
Dynamic power sharing refers to the real-time allocation of available power capacity among multiple vehicles. Instead of fixed power allocation, dynamic power sharing adapts to the charging requirements of connected vehicles, ensuring an optimal distribution of power.
This system can serve multiple EVs while still providing convenient high-speed charging. By employing this system architecture, the infrastructure of commercial EV chargers can be more efficiently distributed, mitigating the need for extensive grid upgrades and reducing costs associated with installation.
Dynamic power sharing (also known as dynamic load management) helps optimize the charging load from the charger to be able to:
Distribute electricity more evenly
Charge multiple EVs simultaneously
Allocate power more efficiently to enable a faster charge
For example, in newer designs such as the split system, a total of 360kW power available in the power cabinet can be shared dynamically among multiple dispensers, like a multiple port charger on a desktop computer, allocating it according to demand in 90kW increments. These 90kW power blocks are conveniently installed in a rack-type system that drastically simplifies service and maintenance in case of malfunction, allowing these systems to have the highest uptime in the industry.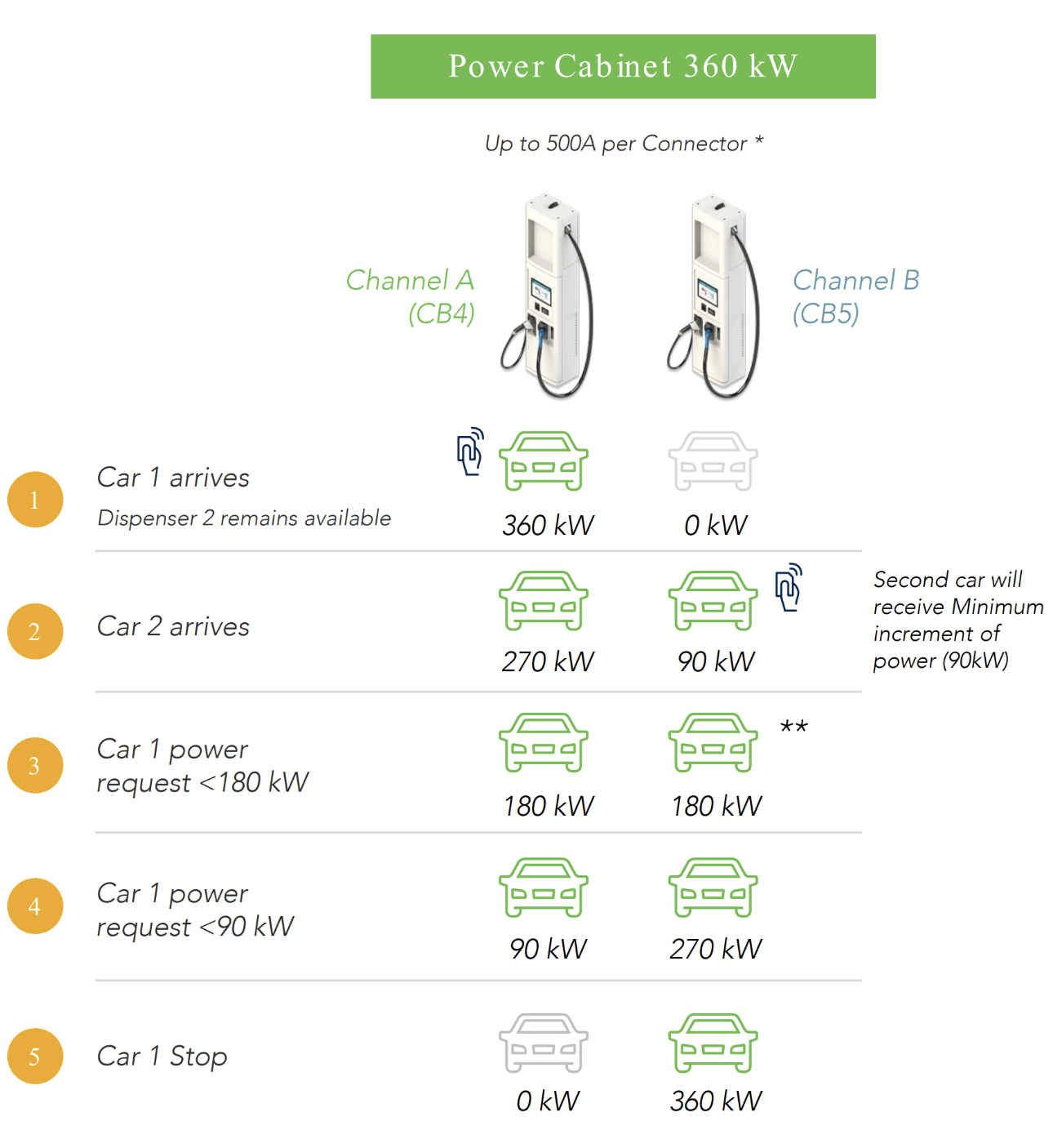 This often happens on a first come/first serve basis. As illustrated, much of the available power fuels the first vehicle to plug into the charging port at the maximum rate available in the system (360kW) as long as the vehicle demands it. As a second car plugs in, the power allocation from the DC fast charger shifts to charge both vehicles. Then as the first vehicle reaches a higher state of charge and power needs to taper off, more power is allocated to the second vehicle, with the lower state of charge. This speeds up the process for both vehicles to achieve the desirable 80% charge by optimizing the tower's power capacity.
The benefits of dynamic power sharing
Dynamic power sharing offers several advantages compared to fixed power allocation or leveling methods. Rather than equally distributing power among the charging stations, dynamic power sharing optimizes power allocation based on real-time demand and the charging requirements of each vehicle. As the first vehicle charges and requires less power, the system automatically reallocates the available power to the second vehicle, ensuring efficient utilization of resources.
As more EVs are on the road, minor issues become larger – future-proofing, infrastructure requirements, customer satisfaction and more. Dynamic power sharing offers several significant benefits:
Efficient utilization of available power capacity – A dynamic power sharing setup optimizes the usage of available power capacity by allocating power based on real-time demand. Adjusting power distribution enables more EVs to charge simultaneously, reducing waiting times and enhancing overall efficiency.
Reduced infrastructure costs – The intelligent management of power allocation minimizes the need for costly upgrades to power infrastructure. It optimizes the utilization of existing power lines and transformers, supporting more charging stations without straining the grid or requiring extensive infrastructure investments. This leads to cost savings and accelerates the deployment of EV charging infrastructure.
Enhanced charging experience for EV owners – The dynamic power sharing ensures a seamless and consistent charging experience for EV owners. The system automatically adapts to the specific charging requirements of each vehicle, allocating the appropriate amount of power needed. Power distribution is automatically adjusted to maintain consistent charging rates even when multiple vehicles are connected.
Scalability and flexibility – Dynamic power sharing enables scalable and flexible charging infrastructure. As commercial EV charging stations demand increases, infrastructure can adapt by reallocating power resources.
Load balancing and grid stabilization – This dynamic management of power distribution helps balance the load on the grid. It prevents overloading of the electrical system during peak demand periods and minimizes the risk of grid instability. This contributes to a more reliable and stable electricity supply, benefiting EV charging infrastructure and the electrical grid.
Who benefits from dynamic power sharing?
Business owners that install a dynamic power sharing station benefit from increased customer turnover, allowing the vehicle on either side to charge more efficiently.
Increased and steady charging also increases customer satisfaction, resulting in repeat customers or high ratings. EV owners often plan trips based on the availability and speed rate of DC fast charging stations along their routes. Offering reliable, speedy charging services helps businesses establish a positive reputation to attract repeat customers. It also has a higher likelihood of leading to positive online reviews, which can help attract new customers as well. For business owners, this type of system can:
Attract and retain customers
Increase foot traffic
Generate additional revenue
Enhance brand image and customer loyalty
Encourage extended customer stays
BTC POWER was one of the first commercial EV charging manufacturers to offer systems that operates according to dynamic power sharing for smart power allocation and faster charging times. The system intelligently distributes spare charging power to reallocate the power from a car that doesn't need it to the vehicle that does.
The power and design help future-proof the BTC charger for the years ahead as battery technology advances, giving the BTC charging system a ten-year lifespan.
In addition, the commercial EV charger enables a level of customization and personalization to enhance customer satisfaction. The large touchscreen is easier to read and lets the business owner use it for promotional messaging.
Some businesses might consider a subscription service arranged through a backend provider for preferred or premier customers to enjoy full power when charging their vehicles. The system enables customers to scan a QR code linked to a phone app for a customer loyalty program and receive priority status while charging for a different power allocation. This program can help with customer retention, positive recommendations, data collection and personalization for sales offers.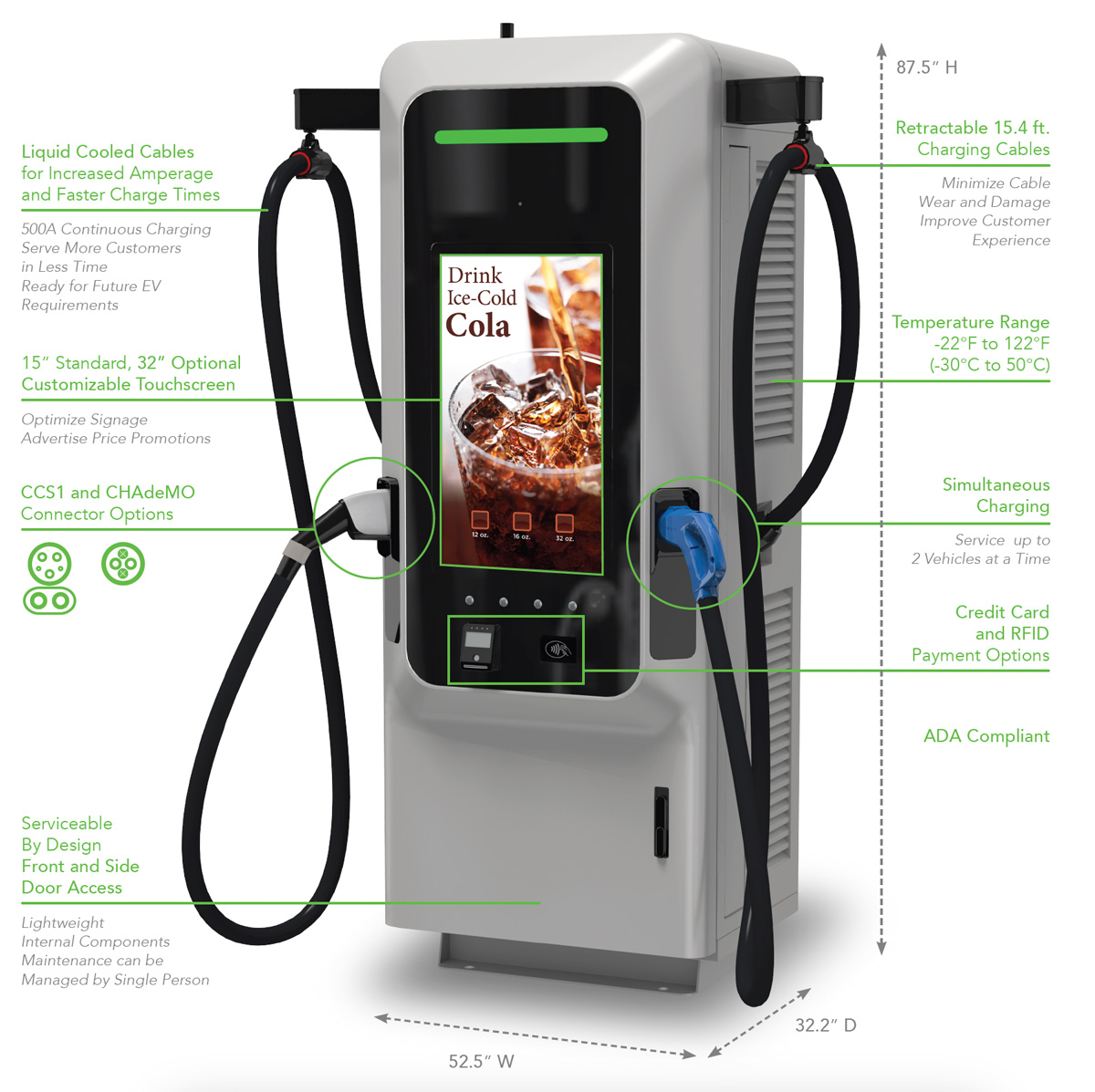 The future of EV charging is here today
BTC POWER is elevating the EV charging station experience with its new GEN4 AiO charger. Business owners will find all the features needed to satisfy customers through its high-performance design. This 180 kW AiO DC Fast Charger can supply an 80% EV battery charge in as little as 10-15 minutes, offering the capacity to serve more customers in less time.
One advanced feature is its 500A liquid-cooled cables. These are less than half the weight of non-liquid-cooled cables for easier vehicle charging. The 500A offers up to 2.5 times the amperage of other competitive cables to help future-proof the charging station as battery technologies advance.
Additionally, it offers drivers either CCS, CHAdeMO and NACS plug options, moving this charging station closer to universal compatibility to enable charging a broad range of vehicles.
The features of the commercial EV charging stations allow EV drivers to experience a predictable charge at the fueling station for an overall better customer experience.
Key features offered by the GEN4 180kW AiO charger:
Buy America Compliant – enables owners to utilize NEVI funding
CCS-1, CHAdeMO and NACS Connector Options – to charge a broader range of electric vehicles with different connections
Simultaneous charging – allows two vehicles to charge at the same time
Liquid-cooled 500A cables – fastest possible charge rate with lightweight cables for ease of use
Touchscreen options – choose 15″ or 32″ screens that act as your customer interface at the pump to communicate specials, promotions, or other messaging
Credit card or RFID payment options – multiple payment options to comply with multiple customer experiences and backends
Compact design – occupies a footprint similar to a standard gas pump
ADA – complies with American Disabilities Act for operating requirements
Lightweight, Integrated, retractable cables – minimize cable wear and improved customer experience
Connectivity and security – connects through LAN, Wi-Fi, or cellular technology
Durability – built to withstand a range of weather conditions and temperatures
Side and front door panels – allow easy access for maintenance and/or repairs
Lower cost of ownership
The towers serving the split system EV chargers from BTC POWER have a maximum capacity of 360kW. Customers can depopulate the tower if the business lacks sufficient power for a 360kW charger. Power modules can be adjusted down to a 240kW tower or even 120kW according to owner preferences.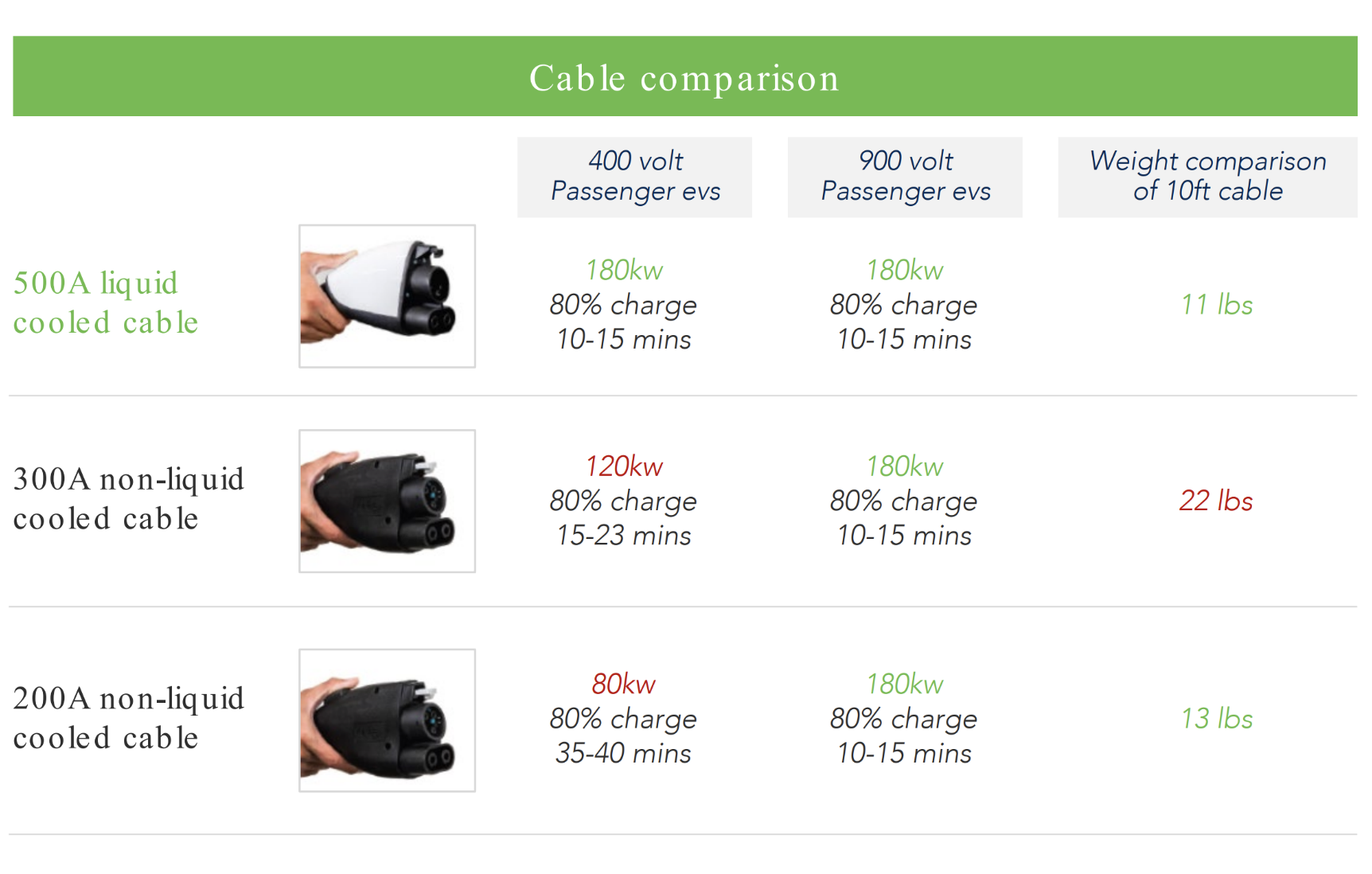 Dynamic power sharing in EV charging represents a significant step forward in creating a sustainable and efficient EV charging structure. As the popularity of EVs continues to rise, implementing dynamic power sharing mechanisms will gain importance. It ensures efficient utilization of available power capacity, reduces infrastructure costs, and provides an enhanced charging experience for EV owners. Look for the most advanced technologies in DC chargers for EVs from the industry-leading EV charger manufacturer, BTC POWER.