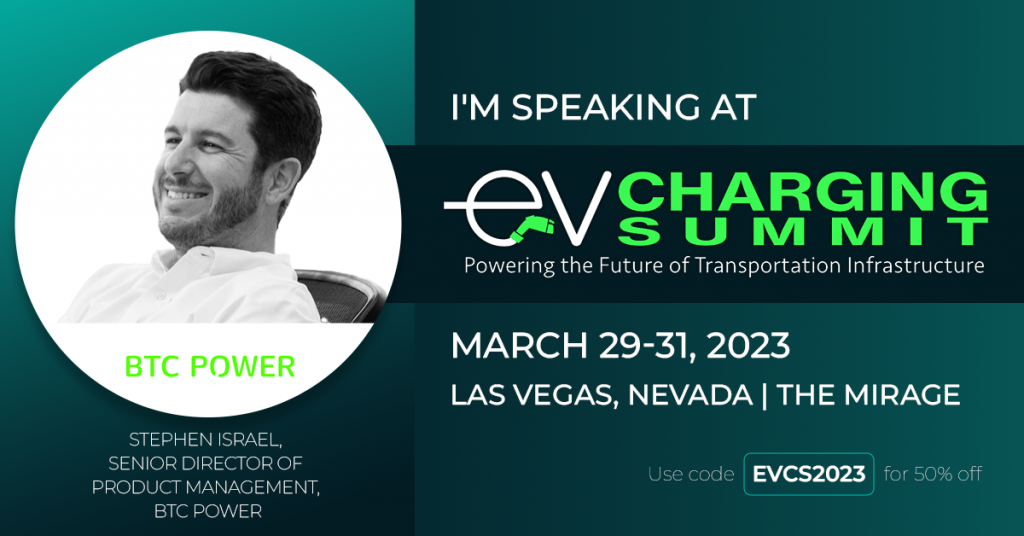 FOR IMMEDIATE RELEASE
Santa Ana, CA – March 1, 2023– BTC POWER, a leading manufacturer of electric vehicle (EV) charging systems, is excited to announce its showcasing of industry-leading AC and DC chargers at the 2023 EV Charging Summit & EXPO in Las Vegas, Nev, on March 29-31st, at Booth #311.
The EV Charging Summit is the premier event for companies in the electric vehicle industry, bringing together experts from around the world to discuss the latest trends and innovations in EV charging technology. As a participant in the summit, BTC POWER will showcase its industry-leading DC Chargers and highlight the company's commitment to helping the world transition to a more sustainable future.
In addition to exhibiting, BTC POWER is also proud to announce that our Senior Director of Product Management, Stephen Israel, will be speaking on the panel, "Designing for the Customer" at the summit. Israel will draw on his 15 years of experience in the EV charging segment to share his expertise and insights on load sharing, software requirements, ease of use and more.
"We're very excited to be exhibiting at the 2023 EV Charging Summit," said Israel. "This event is a great platform for us to showcase our DC Product Line and connect with industry leaders who are passionate about creating a more sustainable future. We're looking forward to the opportunity to share our expertise and participate in the important discussions happening at the summit around infrastructure, operability and ROI for EV Charging."
The 2023 EV Charging Summit promises to be an exciting event for anyone interested in the future of electric vehicles and sustainable transportation. BTC POWER looks forward to connecting with attendees and demonstrating the innovative solutions that we have to offer.
For more information about BTC POWER and our participation in the 2023 EV Charging Summit, please visit our website https://www.btcpower.com.
About BTC POWER:
BTC POWER is a leading manufacturer of electric vehicle charging systems in North America. BTC POWER's product portfolio consists of both DC and AC charging systems with power ranges from 6.6kW to 360kW. With over 18,000 charging systems sold, BTC POWER services Charge Point Operators, Oil & Gas, Convenient Stores, Retail Centers, Fleets and more for charging electric vehicles, heavy duty transit shuttle and school buses, fleets, and other specialty vehicles. To learn more about BTC POWER, please visit btcpower.com.
Marketing Contact:
Caitie Romano, Marketing and Communications Manager
BTC POWER
+1 714-504-7604
[email protected]